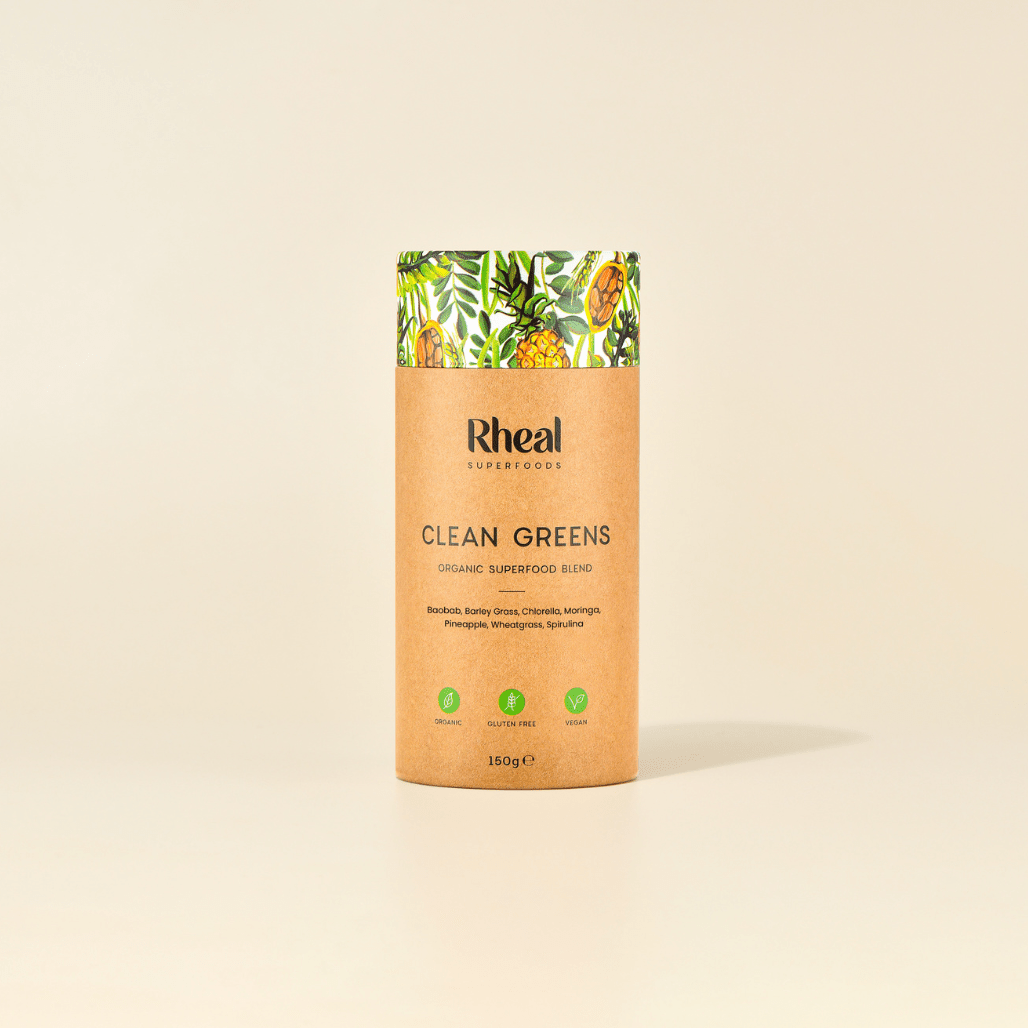 7
Nutritious Superfoods
Certified Organic
Gluten Free & Plant Based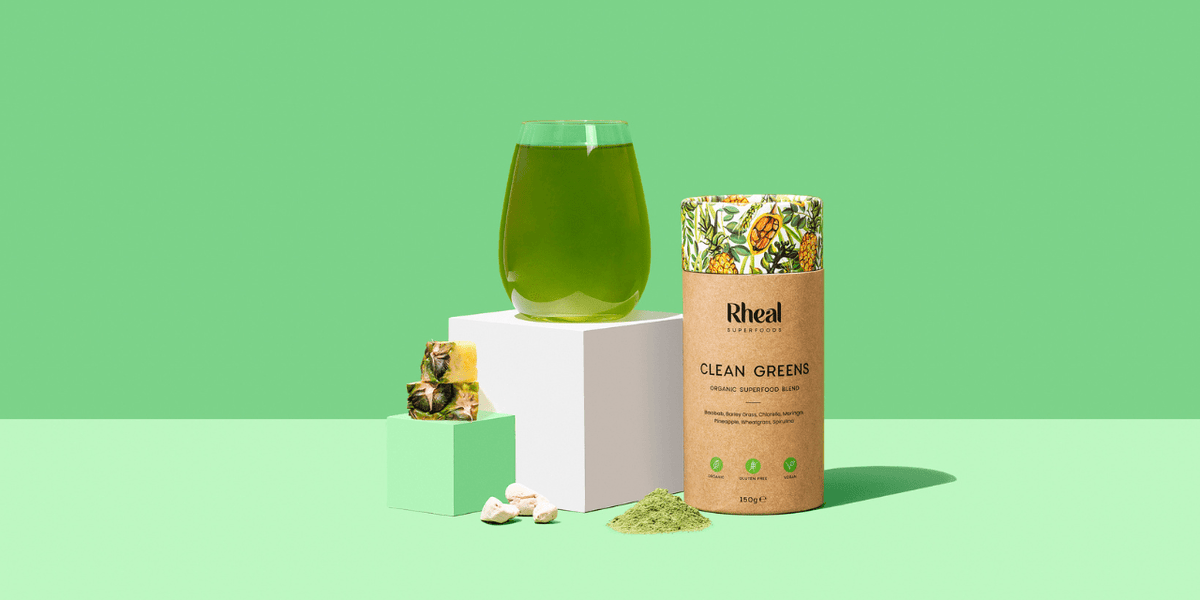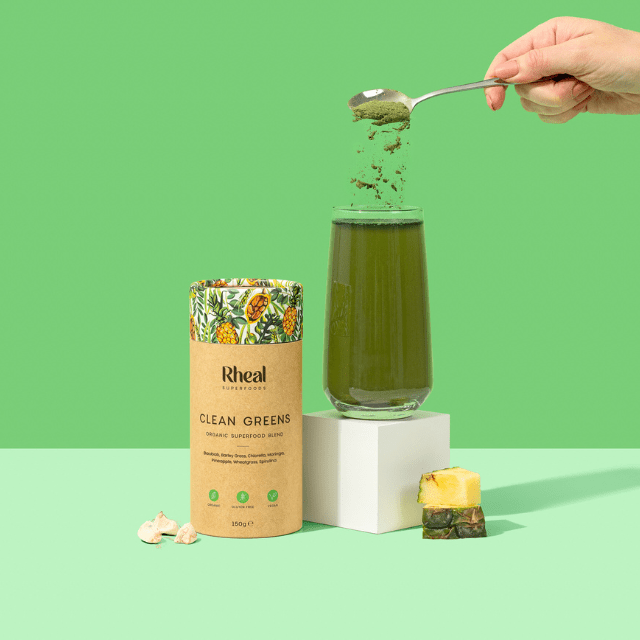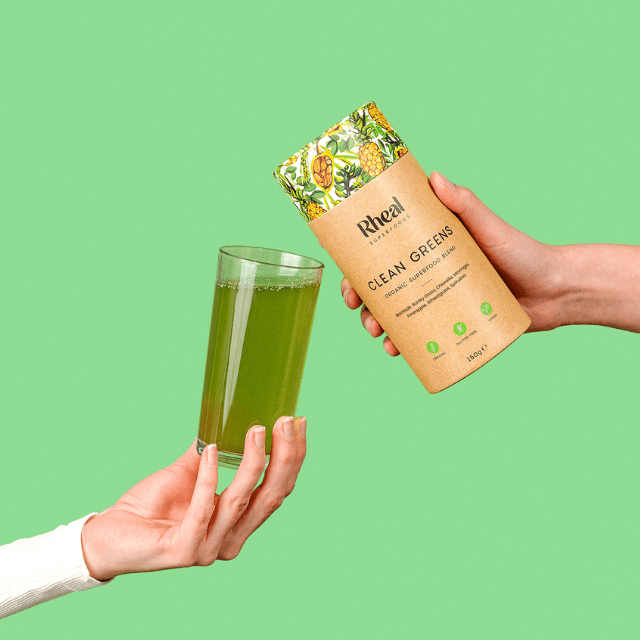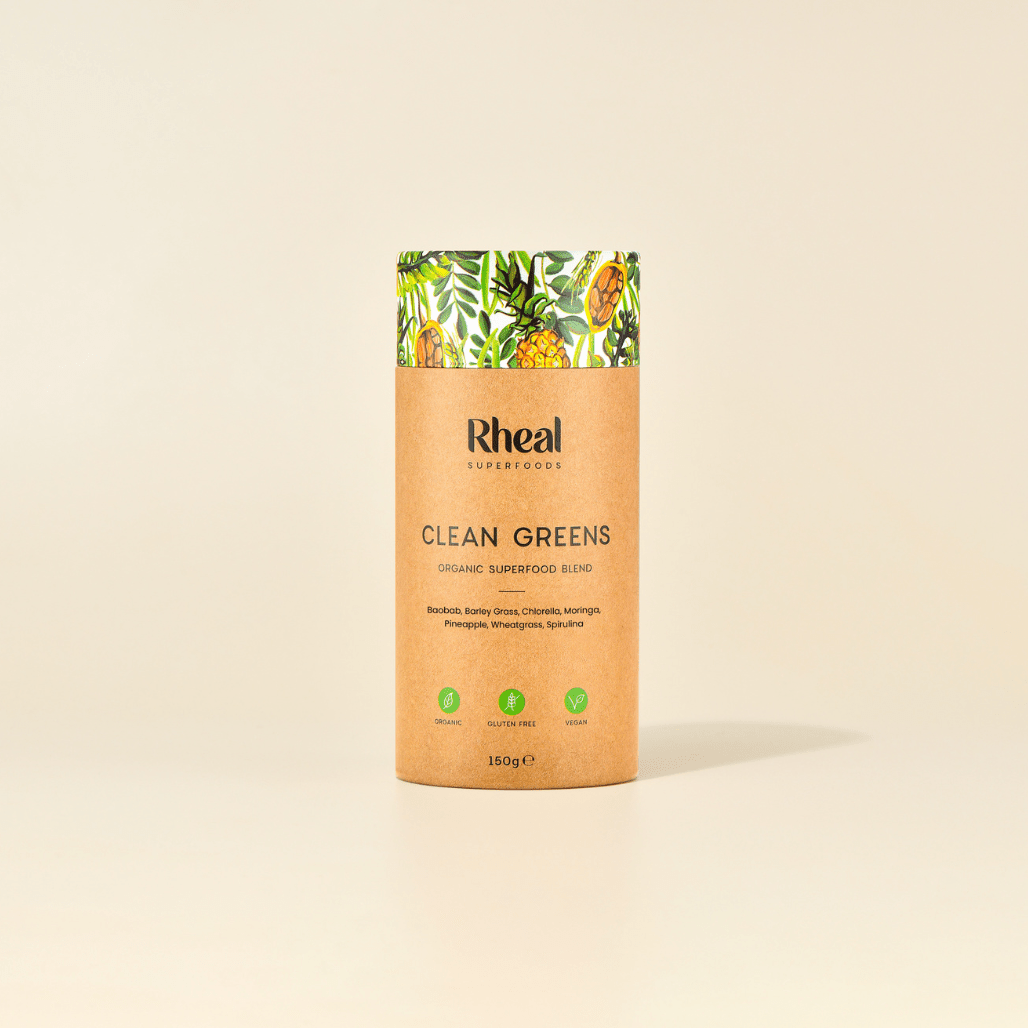 7
Nutritious Superfoods
Certified Organic
Gluten Free & Plant Based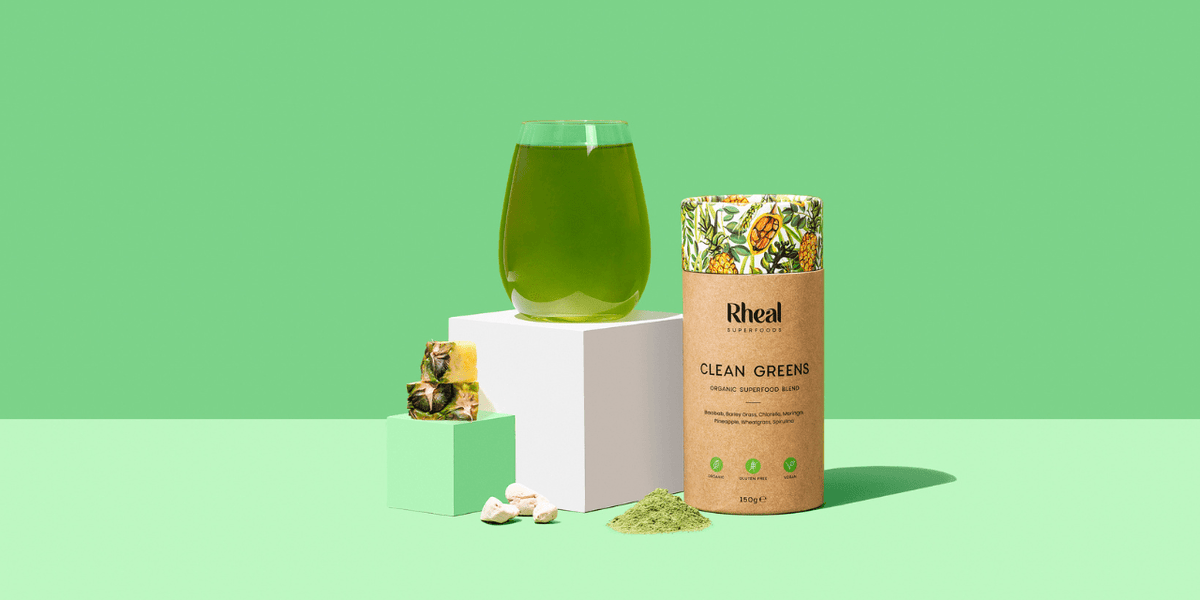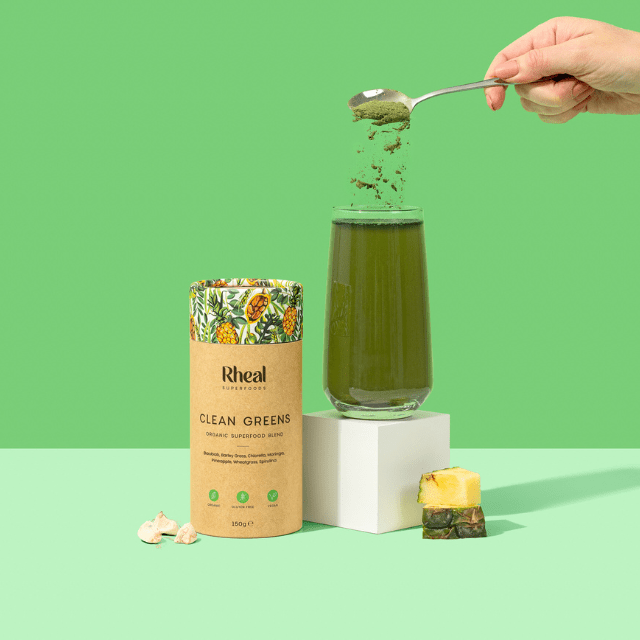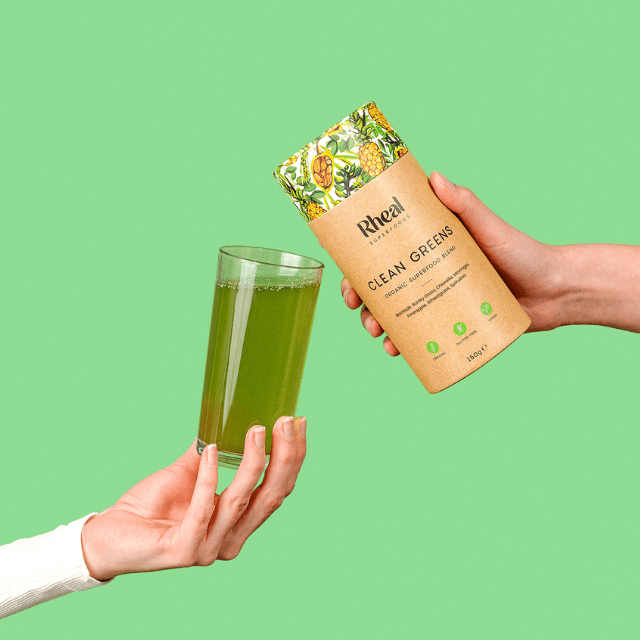 Clean Greens
Get your daily super greens with Clean Greens.
Daily Super-Greens: your daily serving of nutritious greens to support wellness; Wheatgrass, Barley Grass, Spirulina, Moringa & Chlorella.
Real Fruits, No Sweeteners: with added Baobab & Pineapple for a more balanced taste.
Suggested Use: mix with water & a squeeze of fresh lemon. Add to smoothies, health shots, juices & much more.
Certified Organic: Baobab, Barley Grass, Chlorella, Moringa, Pineapple, Wheatgrass, Spirulina, Camu Camu Berry.


Total per 100g

Energy: 1220.5kJ / 291.5kcal

Fat (g): 2.9

Of which saturates (g): 0.8

Carbohydrate (g): 29.9

Of which sugars (g): 16.4

Fibre (g): 31.6

Protein (g): 23.7

Salt (g): 0.3

Vitamin B6 (mg): 0.75 / 54%*

Vitamin C (mg): 455 / 569%*

Calcium (mg): 441 / 55%*

Iron (mg): 31.9 / 228%*

*Recommended Daily Allowance (RDA).

Disclaimer: This product has not been designed to treat, cure, or prevent any disease. We encourage you to undertake your own personal research and to consult a qualified medical professional if you have any concerns or queries prior to consuming this product.



Ingredients

Organic: Baobab Powder, Barley Grass Powder, Chlorella Powder, Moringa Powder, Pineapple Powder, Wheatgrass Powder, Spirulina Powder.

How To Use

Add a spoonful to water with a squeeze of fresh lemon for a refreshing morning boost.

You can easily add Clean Greens to smoothies or mix into salads too.

​​"The Startup Creating Premium Superfood Blends To Improve Your Health"

"Superfoods Are The Future"
Tej Lalvani, CEO Vitabiotics

"Help boost your
all-round wellness"

"Rising stars"
Daily Super-Greens
With Wheatgrass, Barley Grass, Spirulina, Moringa & Chlorella.
Real Fruit, No Flavourings
With Baobab & Pineapple for a balanced taste.
Always Organic
Certified Organic by Organic Farmers & Growers (OF&G).
Gluten Free
With only gluten free ingredients & third party tested.
Mix with Water
Add to water with fresh lemon for a refreshing greens drink.
30 Servings
To support you every day.
"I love that Rheal's products are 100% organic, gluten free and plant based because I know there are no hidden nasties in there! For a while I was not feeling myself and I can honestly say that I now feel amazing thanks to Rheal."

Rosie @rosie.tredgett

Verified Customer
"Rheal's Shroom Coffee is an amazing way to kickstart the morning and power through the afternoon. Big fan!"

Jim @jimhgalvin

Verified Customer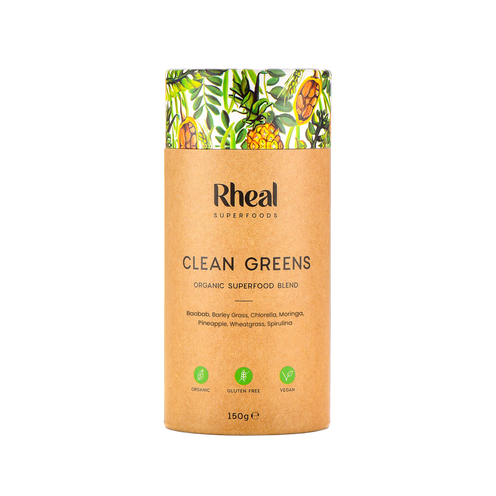 One Time Purchase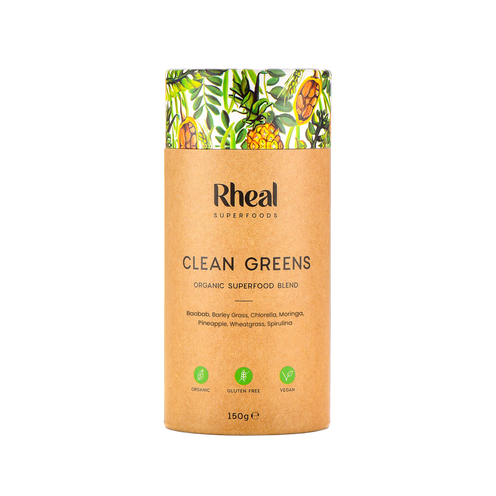 Subscription
15% off subscription products
Free UK shipping
Skip or cancel anytime
We'll do good for you, and we'll do good for the planet too.
With every order, we plant a tree on your behalf with our charity partner, Ecologi. As a company, we're committed to helping rebuild areas affected by deforestation and reducing carbon in the atmosphere. And so far with your support, we've planted over 80,000 trees across the world!
See our blends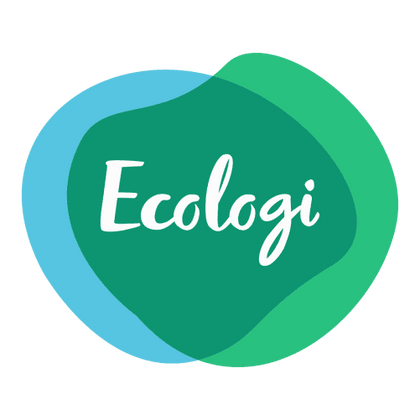 Commonly asked questions
Do I take Clean Greens every day?
We recommend to have a serving of Clean Greens at least once a day, to start feeling its amazing benefits! One serving is 5g, which should measure as 1 teaspoon. You can enjoy more than one teaspoon daily, if you have particular concerns about your immune or digestive health.
What does it taste like?
Clean Greens tastes neutral and earthy, with a hint of fruity sweetness. It is made using only superfoods, with no added sugar or sweeteners - for a refreshing and nutritious greens flavour.
I thought wheatgrass and barley grass were not gluten-free?
Wheatgrass, barley grass and their juices are naturally gluten free. They are derived from the grasses of each plant, which is separate to the grain and so both are naturally free from gluten. We also independently test our Wheatgrass and Barley Grass to ensure there has been no cross-contamination too. So our blends are safe for those with gluten intolerance or Coeliac Disease (just like our Founder, Charlotte).
How do you use Clean Greens?
You can add Clean Greens to shakes, smoothies, juice, milk, healthy recipes and even just plain water. We love our morning Clean Greens with some cold water and a squeeze of lemon juice!
Can I have Clean Greens if I'm pregnant or breastfeeding?
All of our superfood blends are certified organic and contain only the highest quality of natural ingredients. However, we would always recommend that you speak with your doctor or midwife if you are pregnant - in case there are any specific reasons why you should not consume our products or certain ingredients.