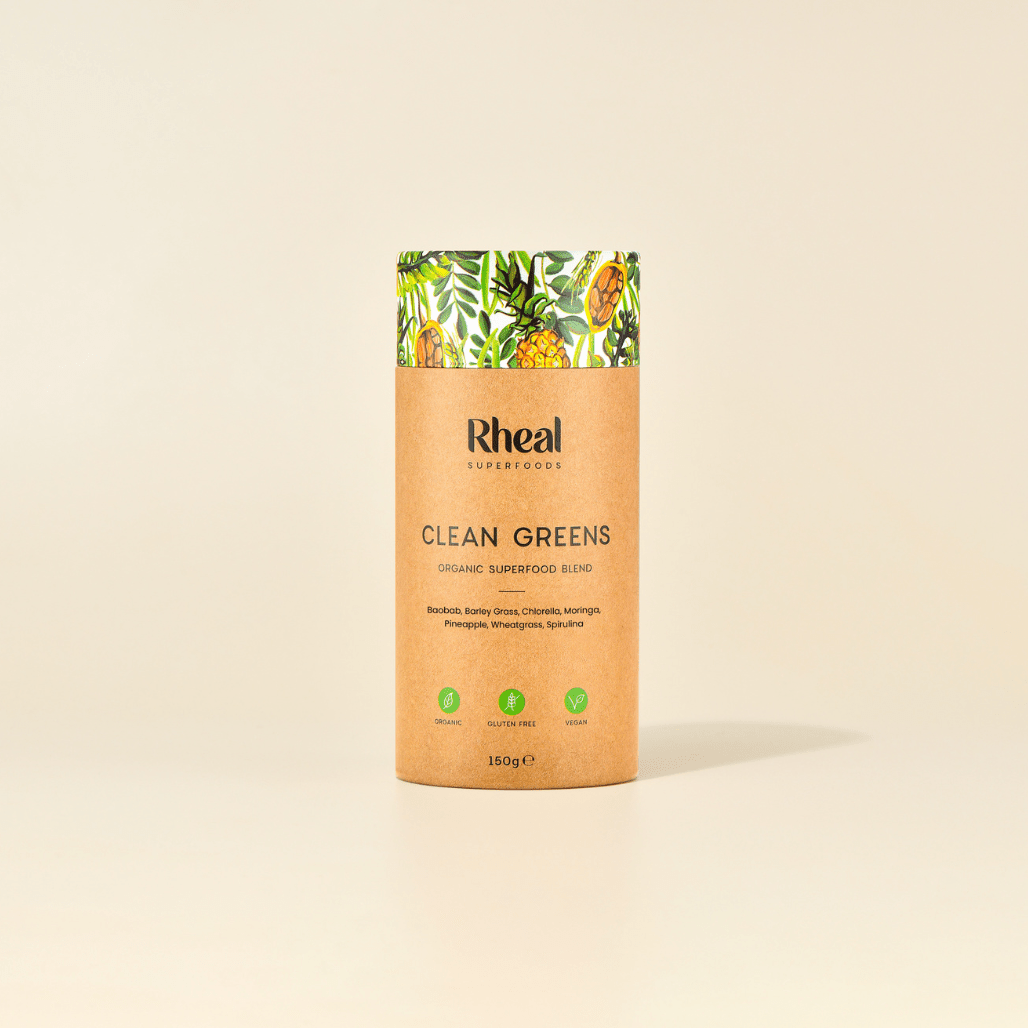 7
Nutritious Superfoods
Daily Immune Support
Organic & Gluten Free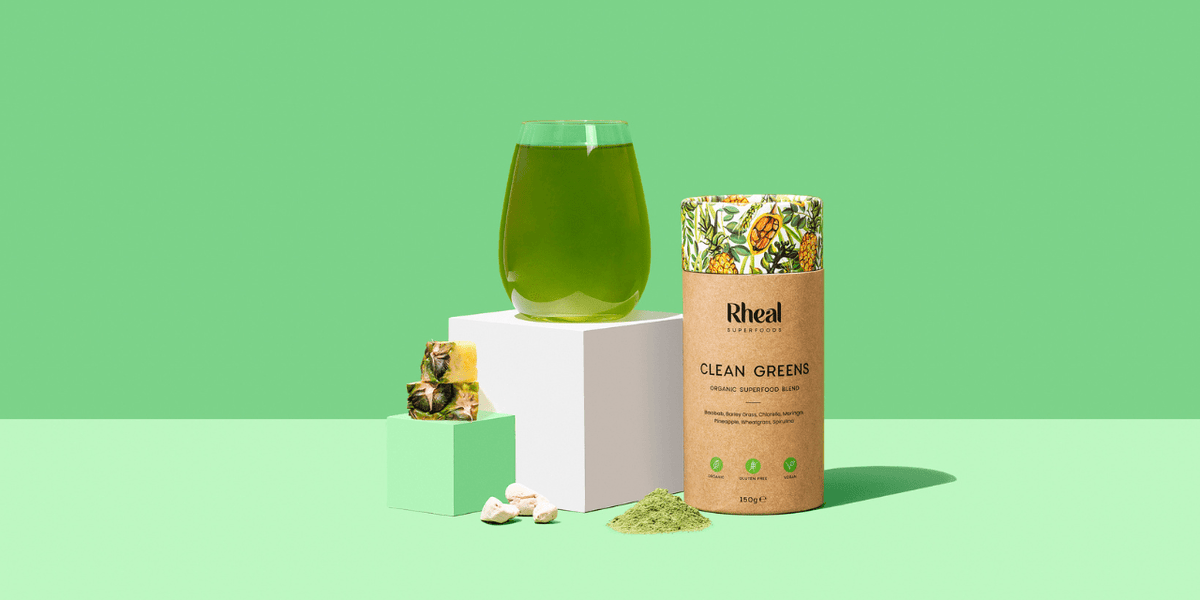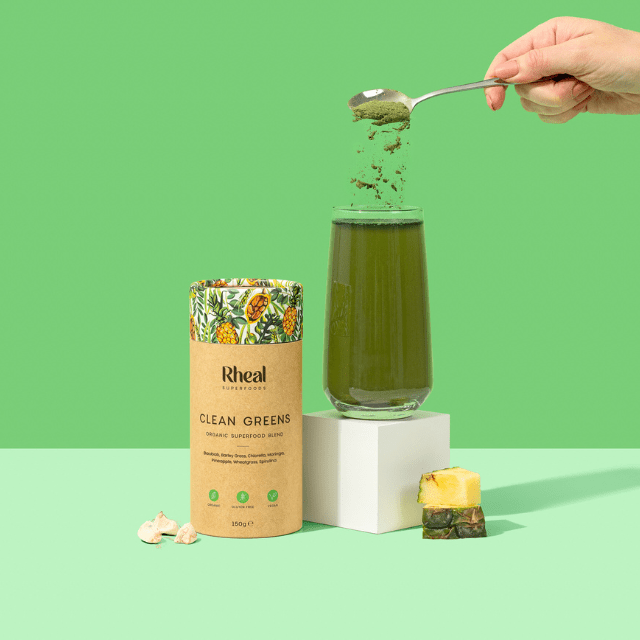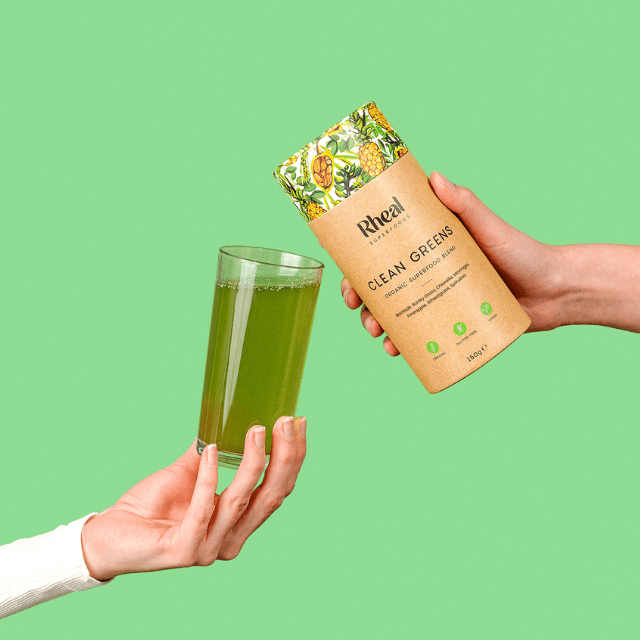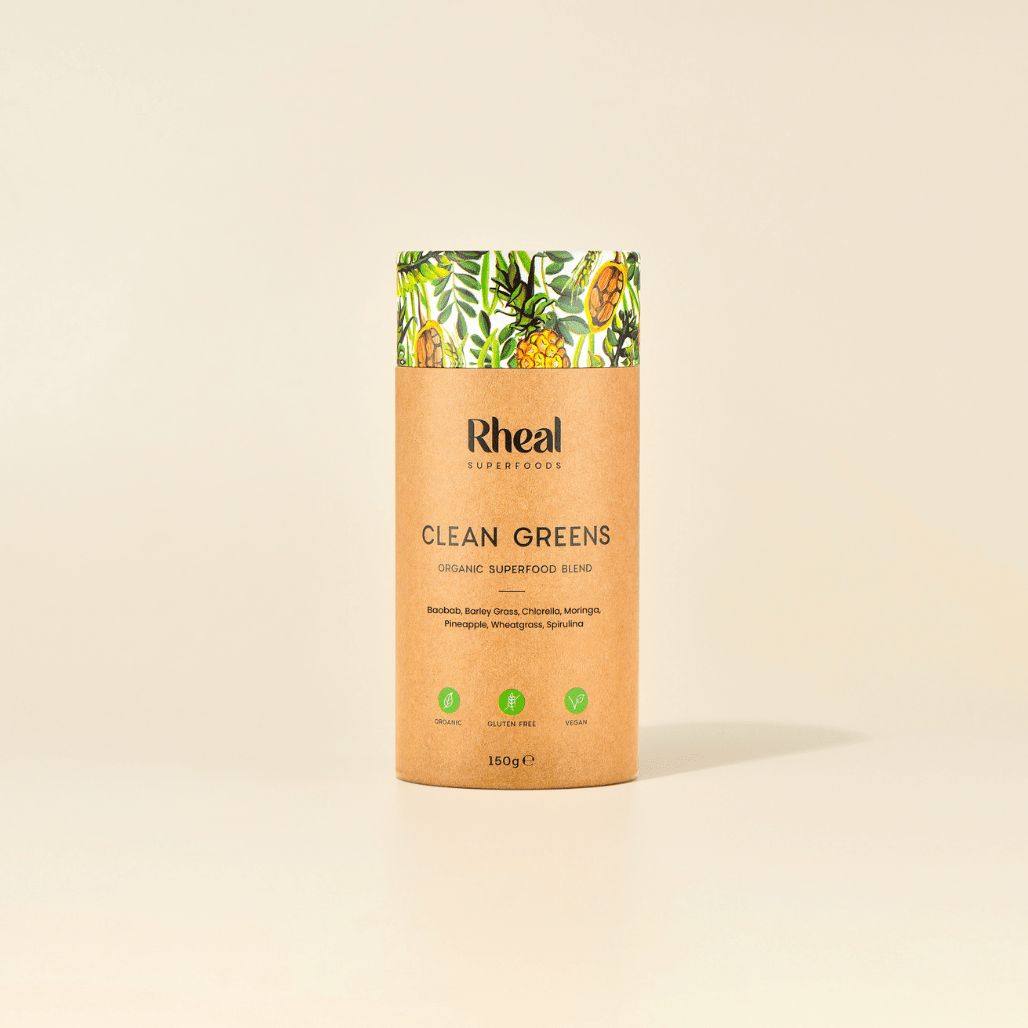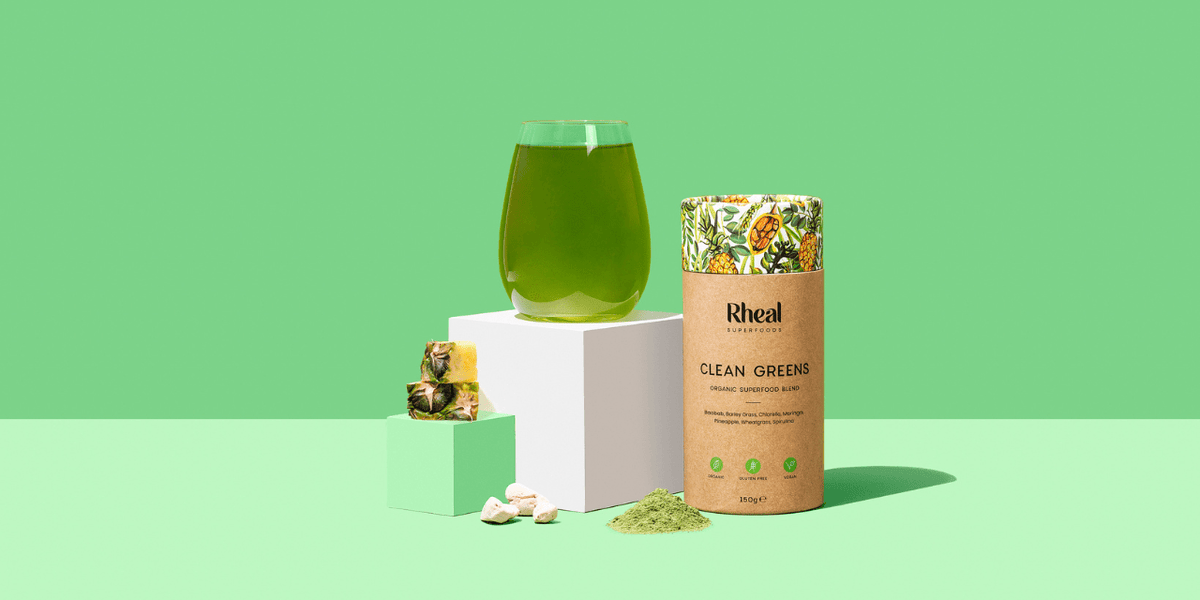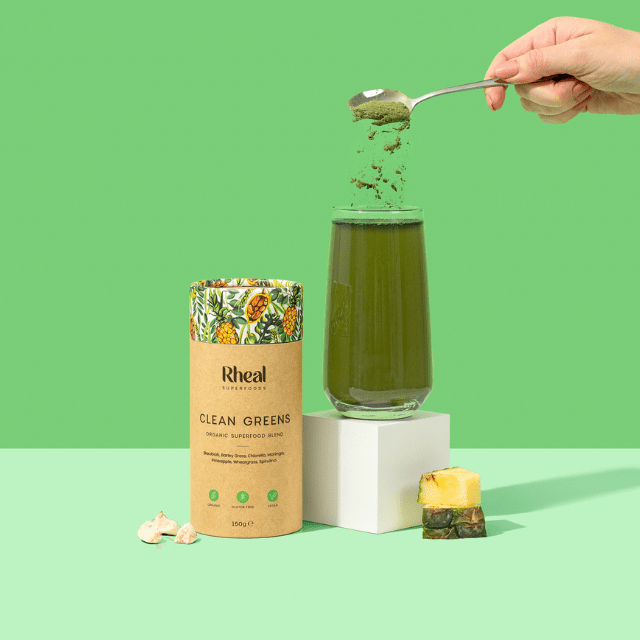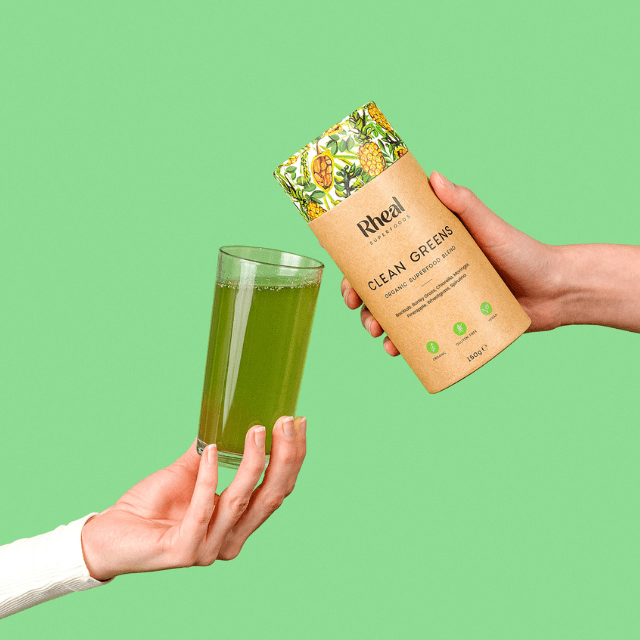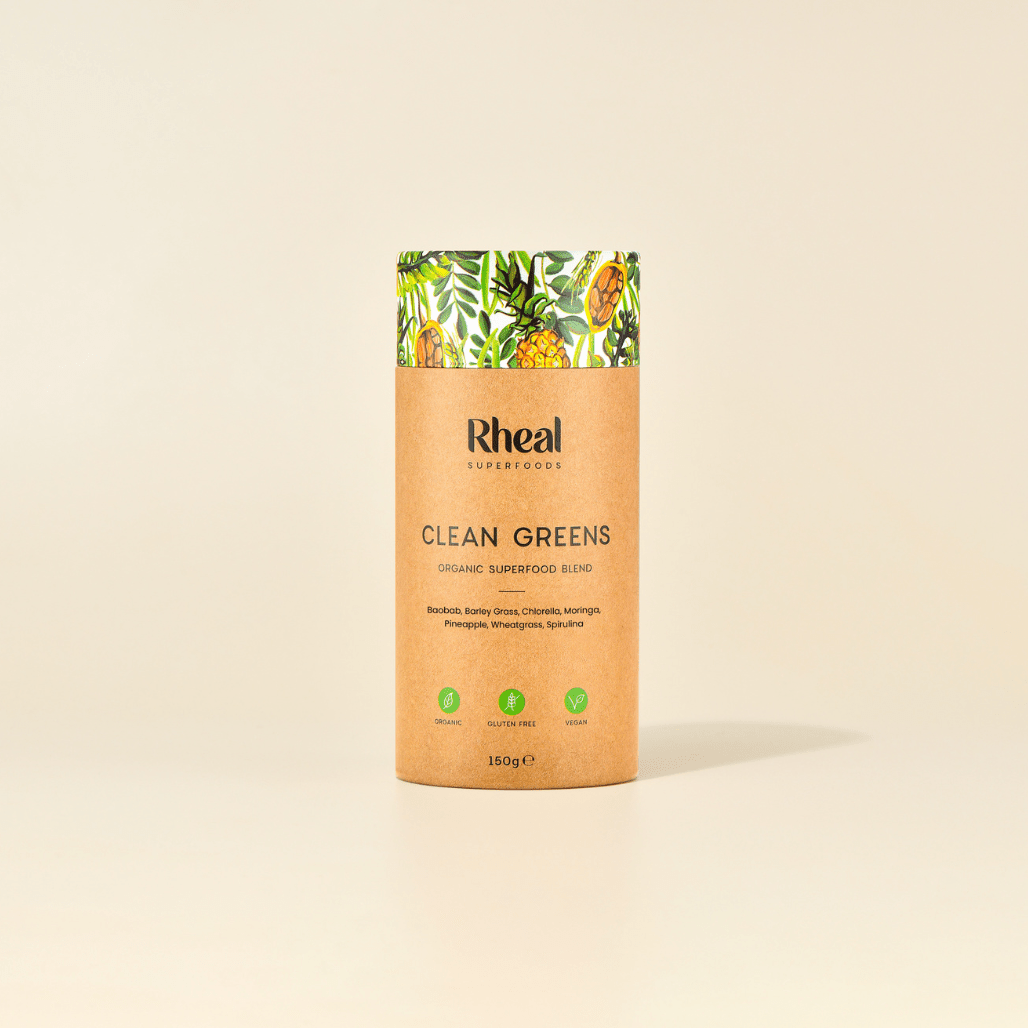 7
Nutritious Superfoods
Daily Immune Support
Organic & Gluten Free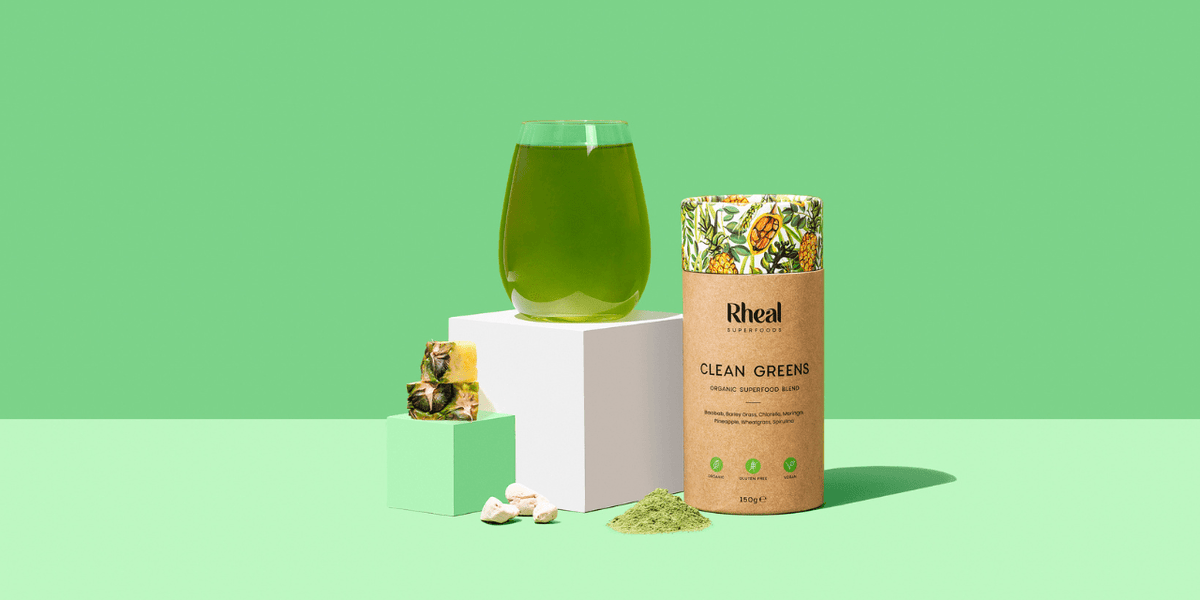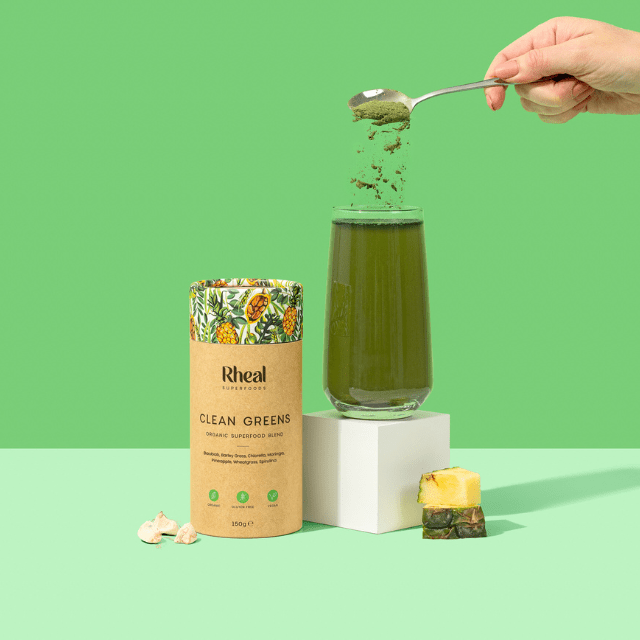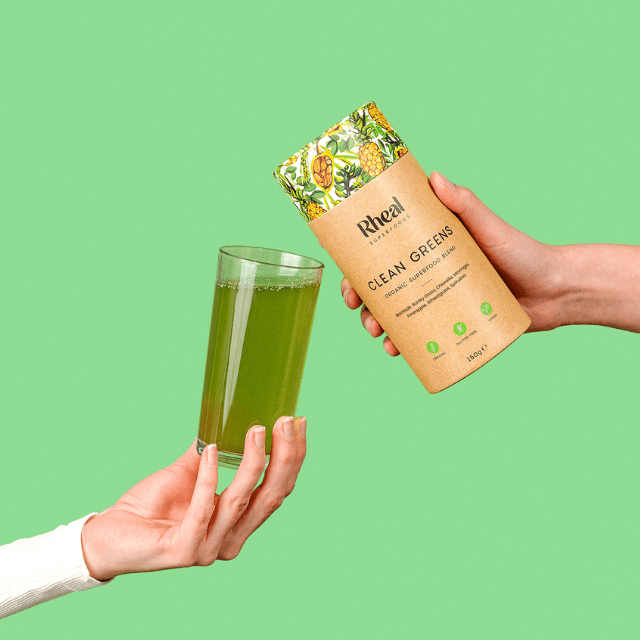 Clean Greens
Start feeling your best with a daily source of nutritious greens to help support immunity, energy & digestion.
Daily Super-Greens
Wheatgrass, Barley Grass, Spirulina, Moringa & Chlorella
Keeping it Rheal
No sweeteners or flavourings, with natural baobab & freeze-dried pineapple for a balanced taste
100% Organic
Organic ingredients only and certified Organic by OF&G
Gluten Free
And Coeliac safe, with only gluten free ingredients & third party testing
Easy to Enjoy
Add Clean Greens to water, fresh juice, sprinkle over salads & add to healthy snacks
30 Servings
To support you every day, all month long
Enjoy Your Daily Greens
The best nutritious superfoods to support you everyday.
Add 5g/1tsp serving to a glass of cold water with a squeeze of fresh lemon. We recommend to enjoy before meals, to ensure maximum absorption.

Blend your 5g/1tsp serving with half an avocado, fresh spinach, frozen pineapple, mango & apple juice for a refreshing greens smoothie.

Sprinkle your 5g/1tsp serving over salads and leafy greens for an extra nutritious kick! Great for adding to homemade salad dressings too.
What's Inside
Just 7 organic superfoods to support your health. And yes, that's it.
Baobab
Native to warmer & drier climates, the Baobab fruit is praised for its amazing natural benefits. With 7 times more Vitamin C than oranges, Baobab really is a superfruit to help support your overall health.

Barley Grass
Barley Grass is harvested before the grain (Barley) grows, meaning this fibre & protein rich superfood is gluten free too! A great natural ingredient to help support our overall health and wellness from within.
Chlorella
A nutritious fresh water algae, Chlorella provides a natural source of key vitamins, minerals and antioxidants, to support our overall immune health. Chlorella on its own is pretty potent in flavour, so you're safe from plugging your nose with Clean Greens!

Moringa
Native to North India, the Moringa plant has been used in ancient holistic medicine for centuries. The dried Moringa leaves are what you will find within Clean Greens, and they are an amazing natural source of vitamins & minerals to support our overall health.
Pineapple
The delicious Pineapple is the perfect fruit to help balance the earthiness of our Rheal greens. Not only that, but Pineapple contains bromelain, an enzyme clinically proven to support digestive health.
Wheatgrass
Wheatgrass, similarly to Barley Grass, is harvested before the grain (Wheat) grows. This nutritious superfood is often called the 'king of cleansing' within the nutritional supplements world, due to its high fibre content.
Spirulina
Spirulina is a beautiful freshwater algae, praised for its sustainability and amazing natural nutrients. NASA even declared they would aim to grow it in space as it is one of the most nutrient-dense foods you can get - pretty cool right?
Join 750,000+ Customers Who Love Rheal
Let's hear what some of them have to say.
"Have used a friends Clean Greens mix for the lasts 3 days and feel the best I've felt in years. Can't wait to order some for myself. Feel full of energy and generally healthier, amazed how quickly it's worked!"

Greg

"I have been on Clean Green for coming up to 4 months now and I will not be stopping. Love the subscription options too. It has become a part of my morning routine and the benefits experience- BRILLIANT."

Enjee

"I'm always surprised by how much immediate - really immediate- energy I have when I drink this. It makes me feel good straightaway, not sure how but it's incredible."

Leo

"I usually make my own green juices, and this makes life so much easier. I feel great after using it for 2-3 weeks now, I mix it with water, add loads of ice and add lots of lemon juice and it's wonderfully refreshing (you do have to get used to the taste a little, more lemon will help). Can't imagine not having it as part of my routine"

Francesca

"This is, by far, the BEST superfood/health brand out there. Natural products that really really work. No additives or flavourings like other brands, and no nonsense. Just goodness, backed by science, which as a brand, they are not afraid to educate us on. Fantastic emails, brilliant branding and healthy products."

Samantha

"I'm feeling good naturally and I can't believe it. Clean, natural products that actually work. No nonsense, no hidden nasties, no flavourings or additives, just natural ingredients and incredible results. Highly recommend, will be buying these products for the rest of my life."

Helen
Frequently Asked Questions
Do I take Clean Greens every day?
We recommend to have a serving of Clean Greens at least once a day, to start feeling its amazing benefits! One serving is 5g, which should measure as 1 teaspoon. You can enjoy more than one teaspoon daily, if you have particular concerns about your immune or digestive health.
What does it taste like?
Clean Greens tastes neutral and earthy, with a hint of fruity sweetness. It is made using only superfoods, with no added sugar or sweeteners - for a refreshing and nutritious greens flavour.
I thought wheatgrass and barley grass were not gluten-free?
Wheatgrass, barley grass and their juices are naturally gluten free. They are derived from the grasses of each plant, which is separate to the grain and so both are naturally free from gluten. We also independently test our Wheatgrass and Barley Grass to ensure there has been no cross-contamination too. So our blends are safe for those with gluten intolerance or Coeliac Disease (just like our Founder, Charlotte).
How do you use Clean Greens?
You can add Clean Greens to shakes, smoothies, juice, milk, healthy recipes and even just plain water. We love our morning Clean Greens with some cold water and a squeeze of lemon juice!
Can I have Clean Greens if I'm pregnant or breastfeeding?
All of our superfood blends are certified organic and contain only the highest quality of natural ingredients. However, we would always recommend that you speak with your doctor or midwife if you are pregnant - in case there are any specific reasons why you should not consume our products or certain ingredients.
Have more questions? Get Help
We Think You'll Love These Too
We'll do good for you, and for the planet too.
As a registered B Corp, this means that every decision and step we make as a business, carefully considers the impact we will have on the planet, our communities, our wildlife & eco-systems. And with every order, we will also plant a tree on your behalf with our charity partner, Ecologi.
So far, we've planted over 500,000 trees worldwide, to support areas affected by deforestation.
Rheal is truly a force for good.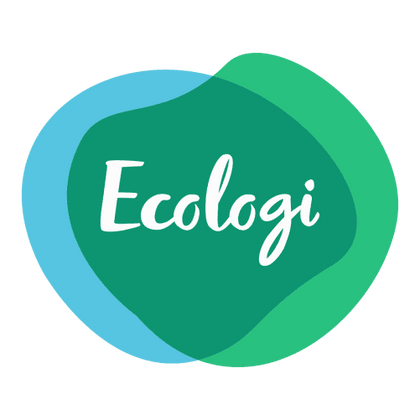 Keep in touch
Sign up to hear from us on all things superfoods, health hacks & more!
By clicking 'sign up' you are opting in to marketing. You can unsubscribe at any time.
Privacy Policy
.