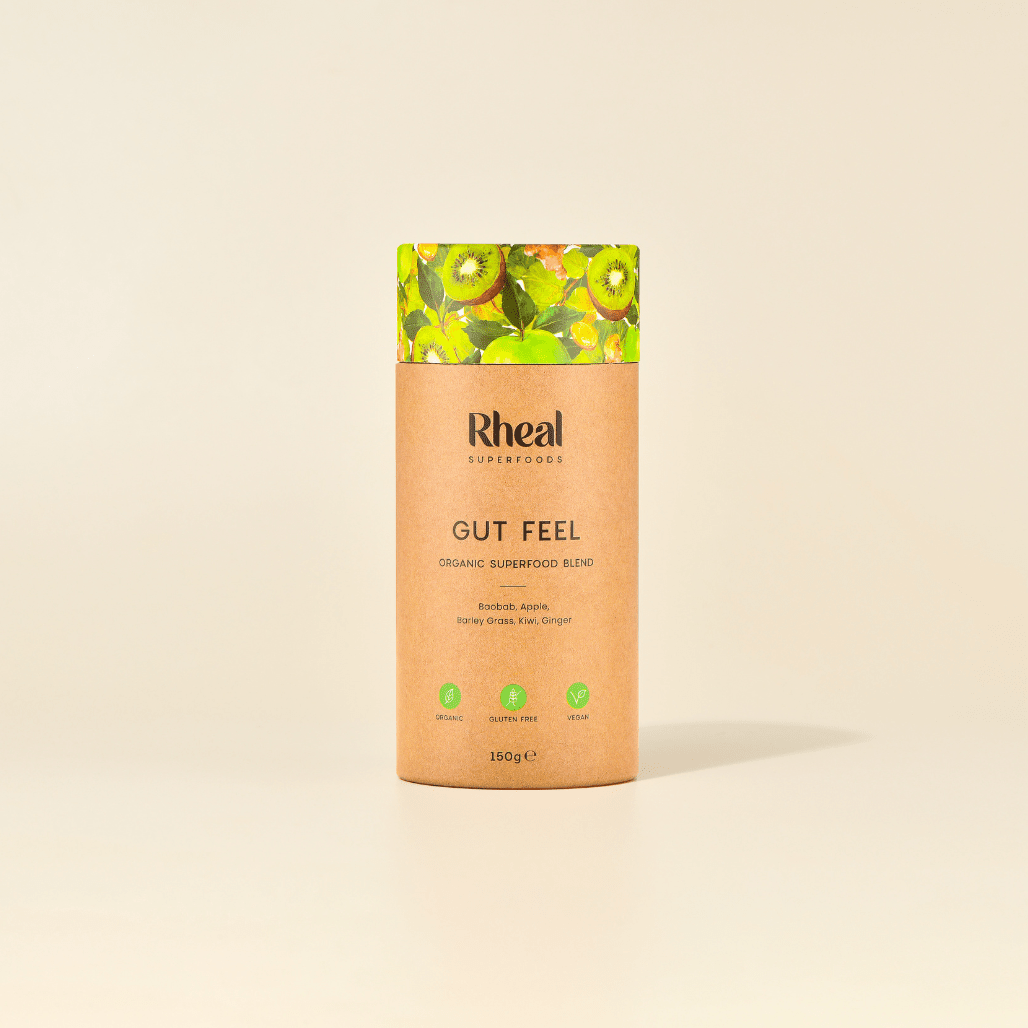 5
Gut Friendly Superfoods
600mg
Actazin® Kiwi
Gentle gut health support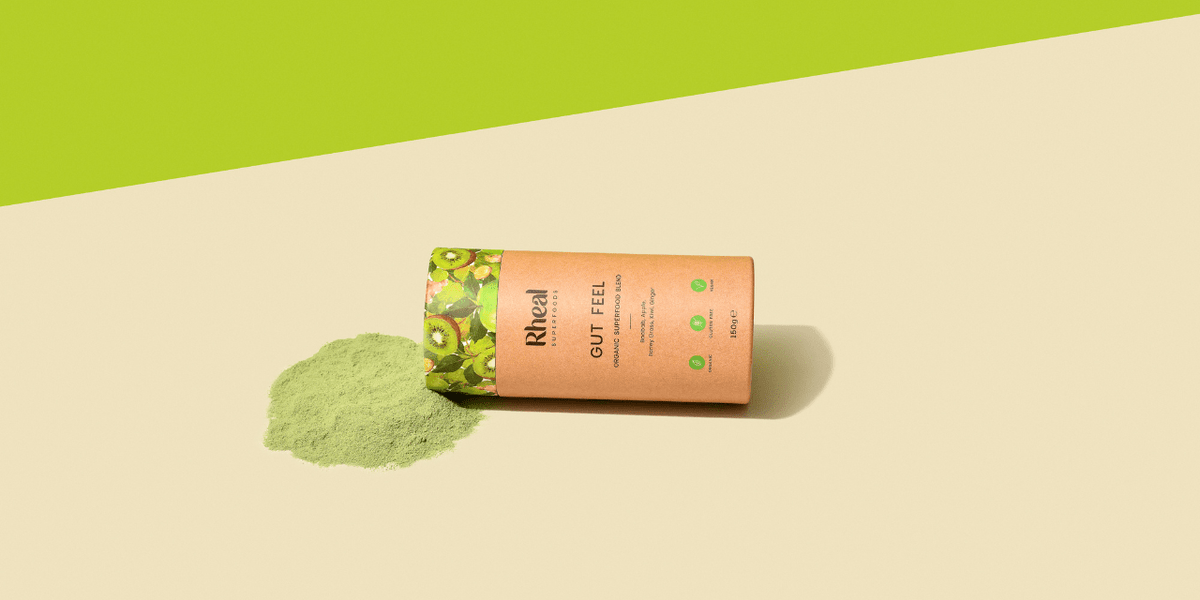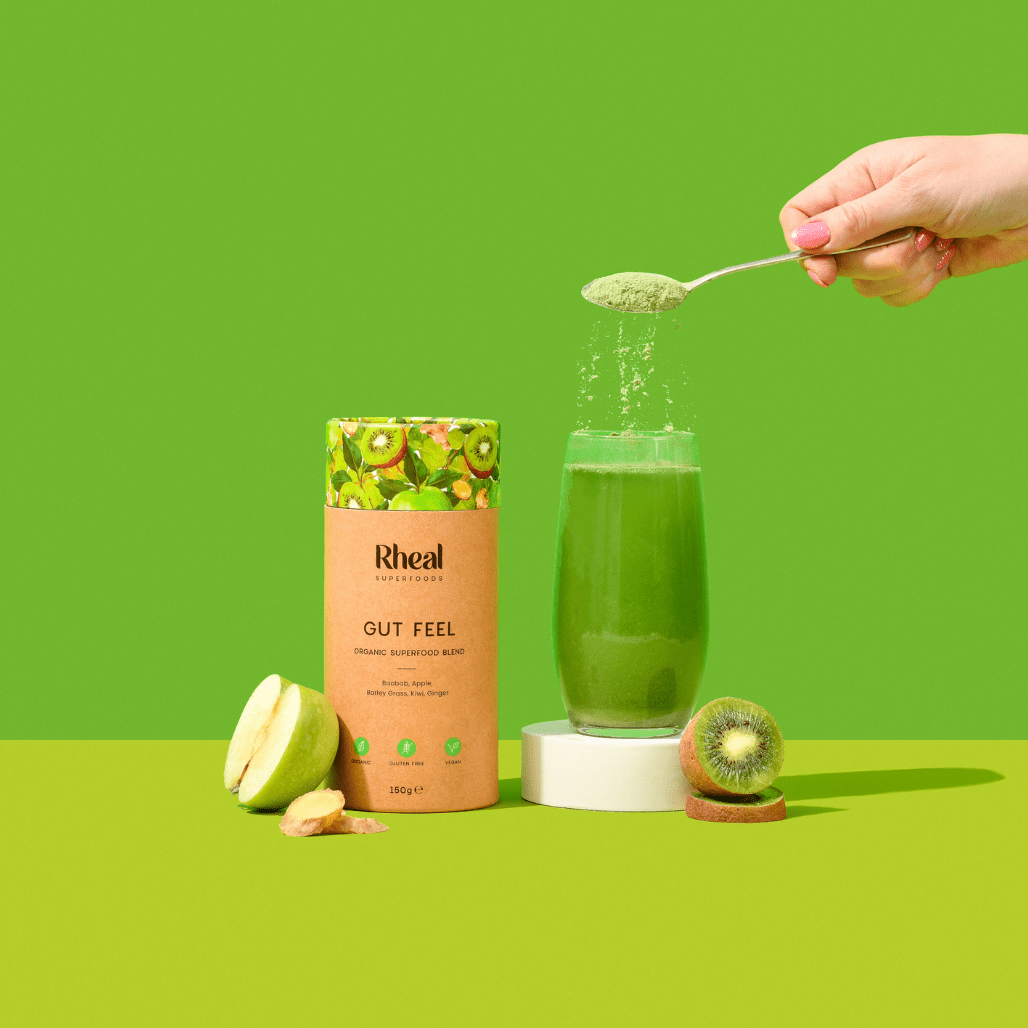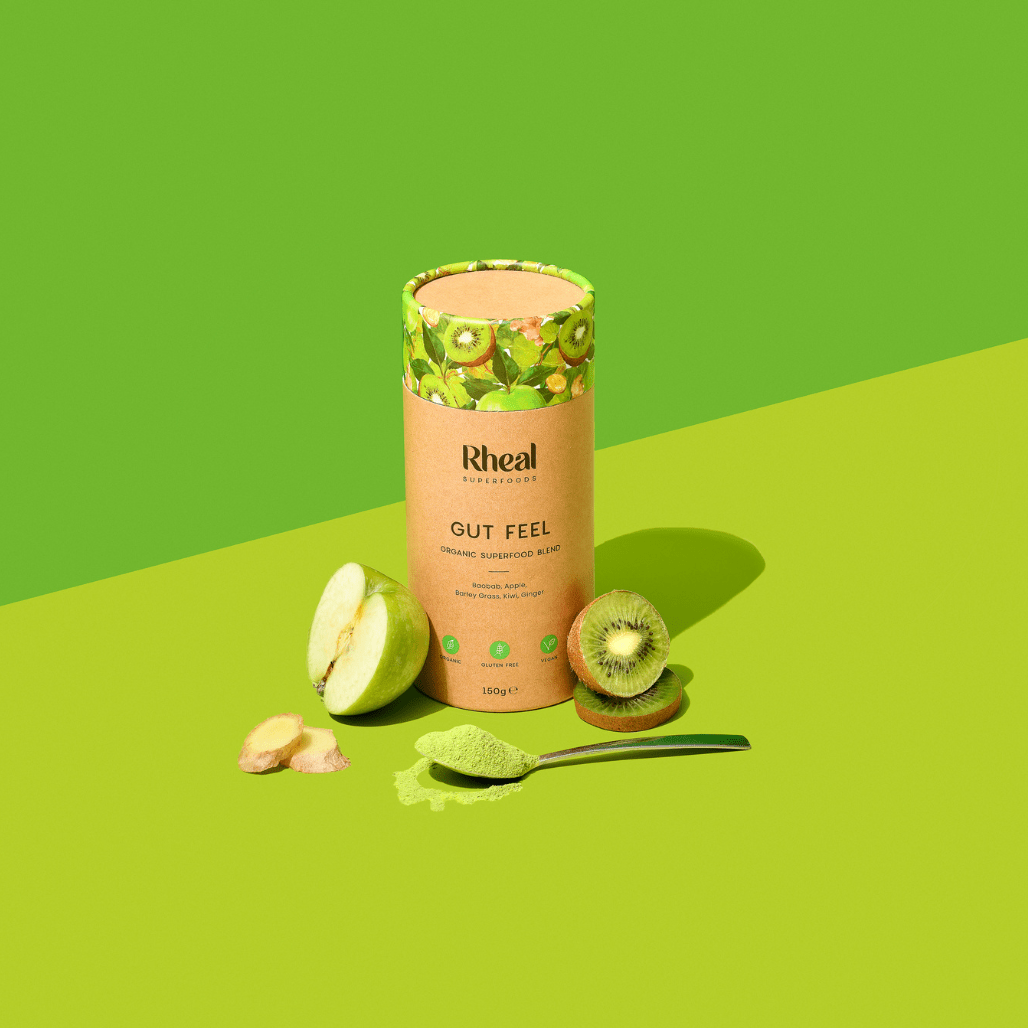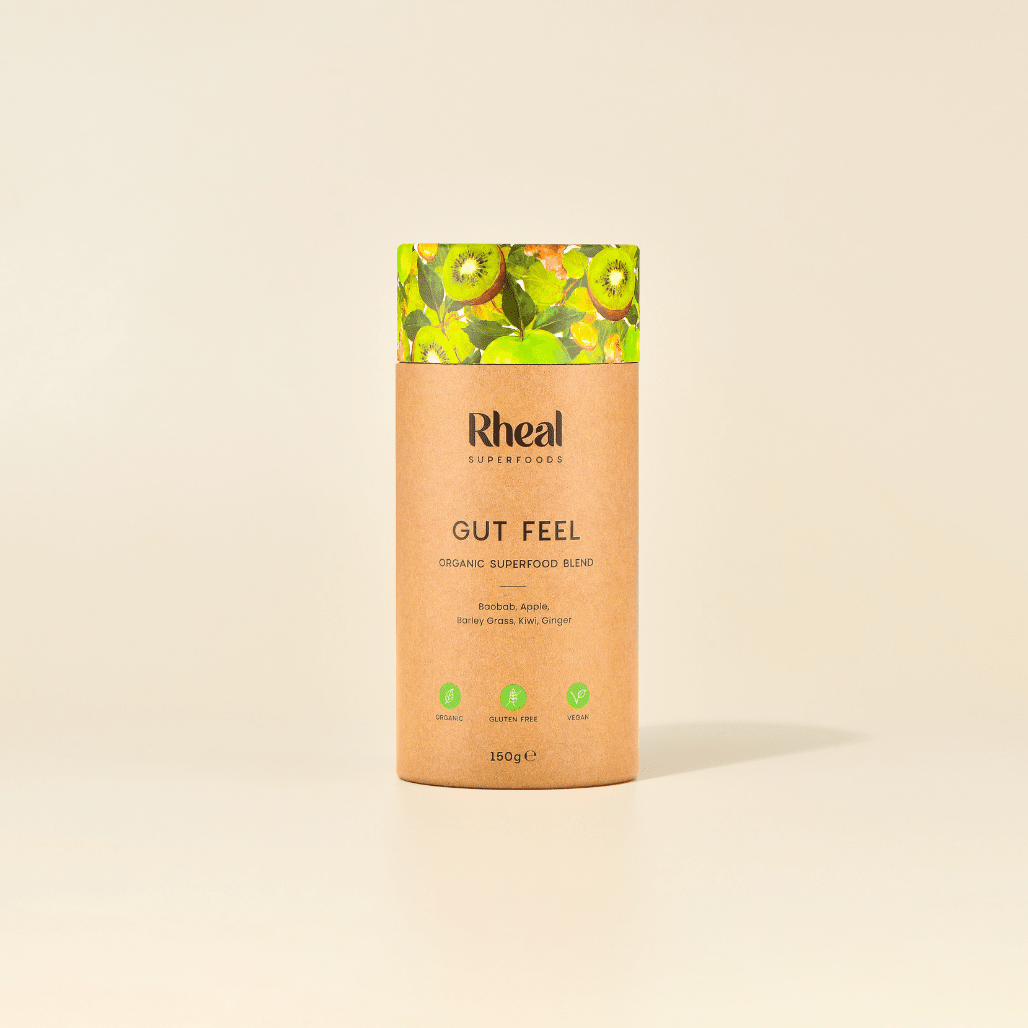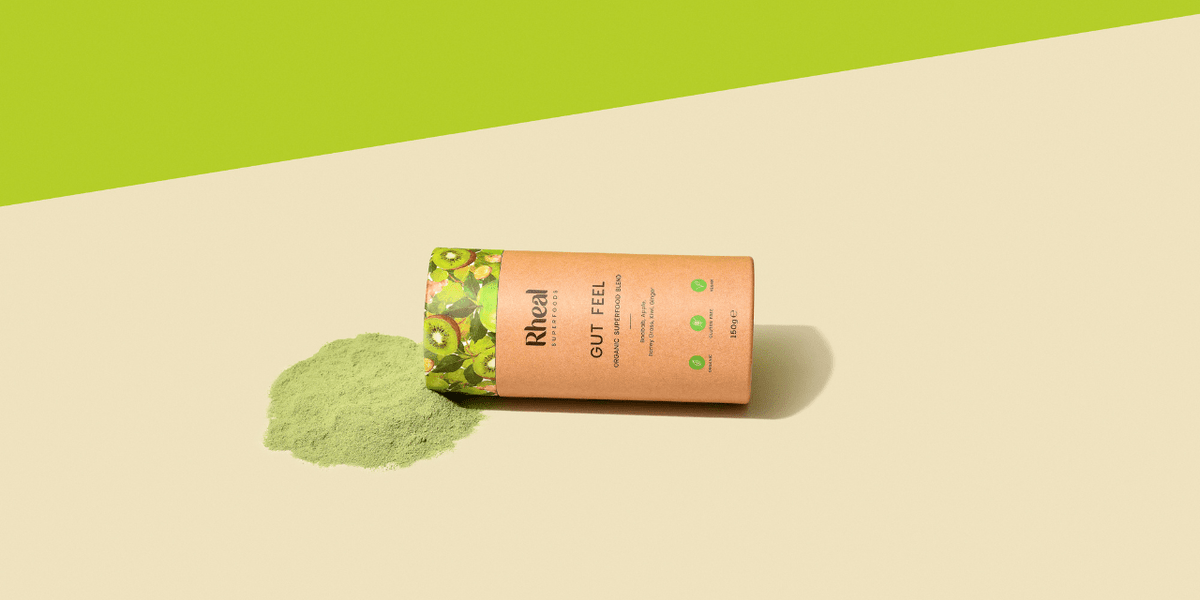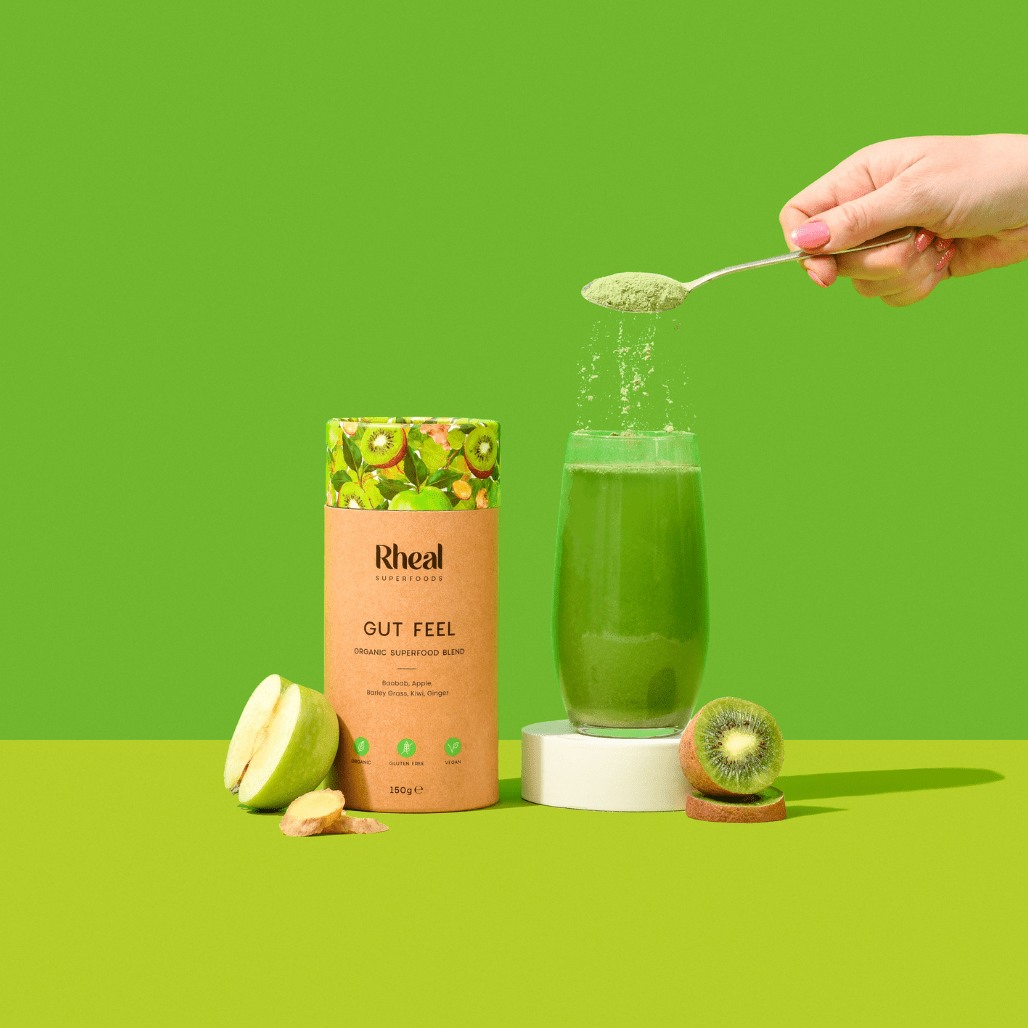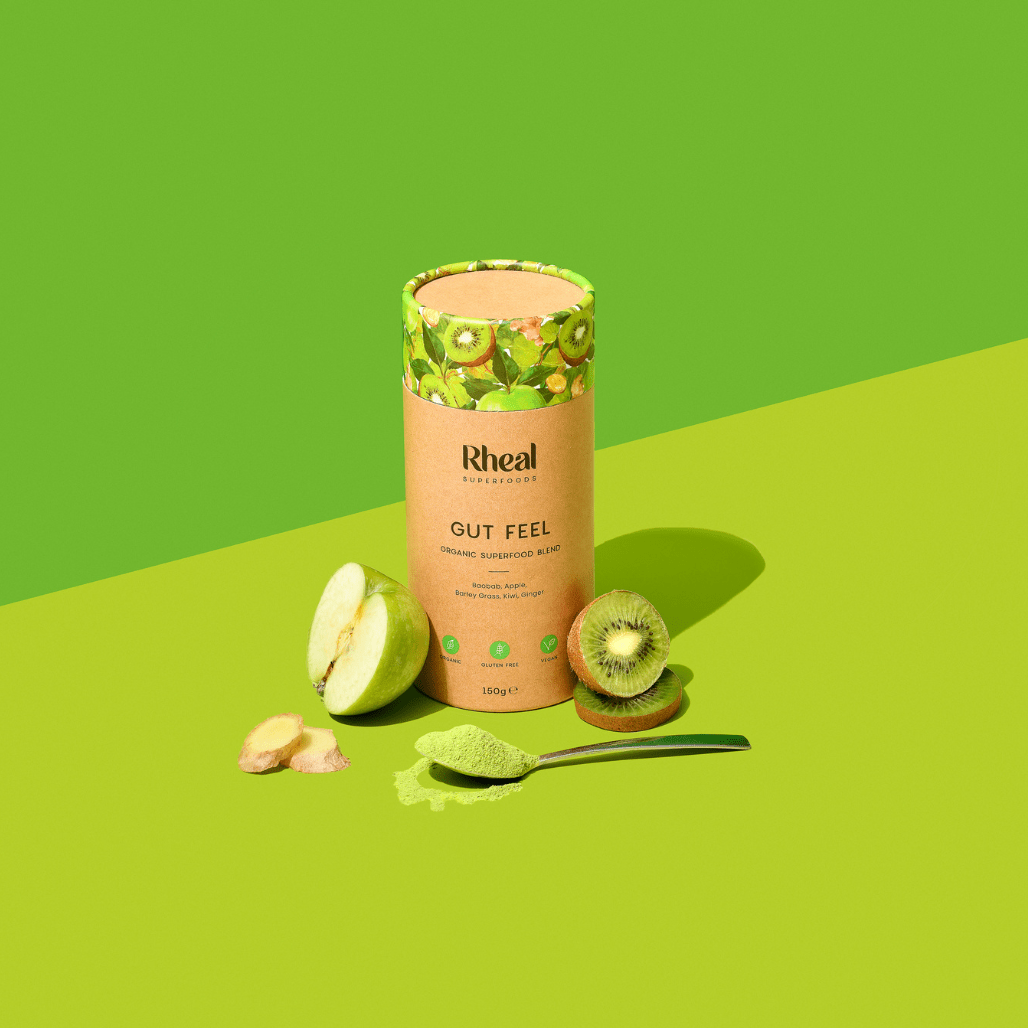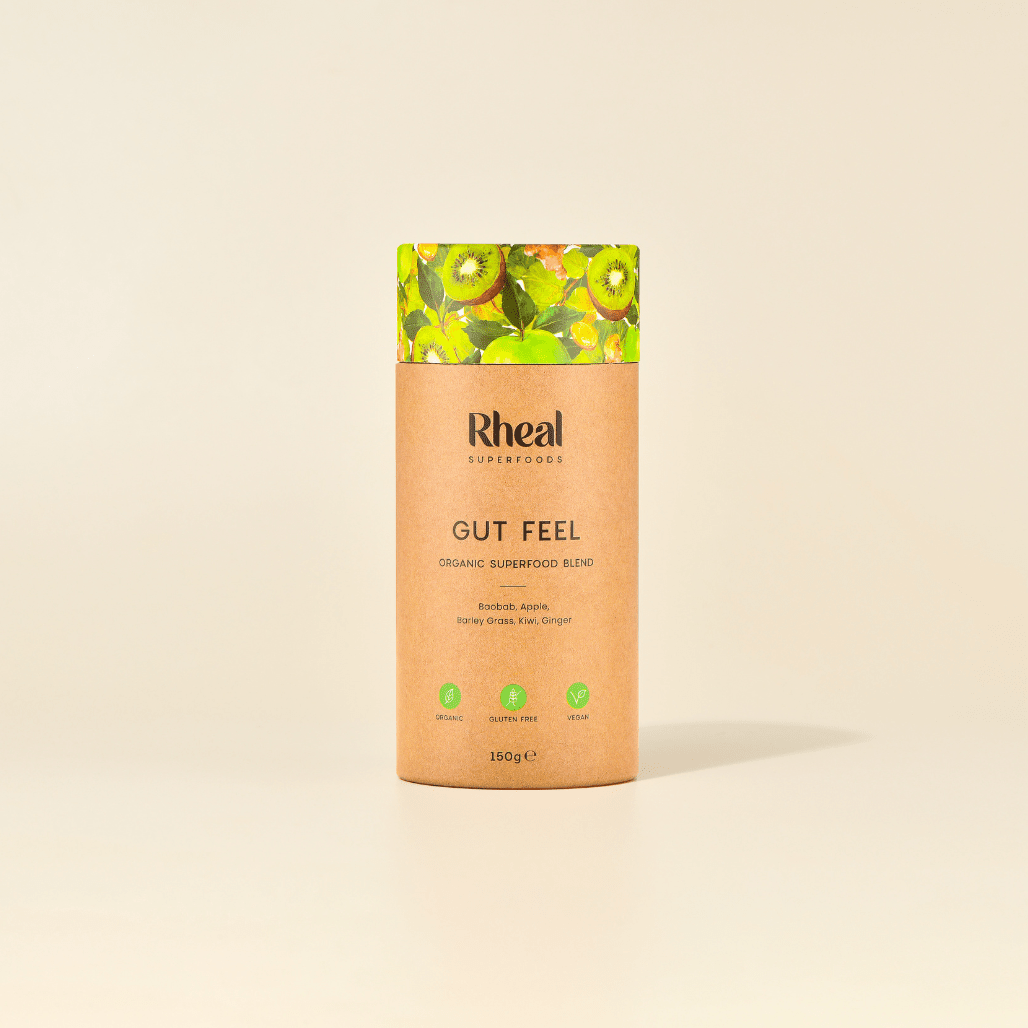 5
Gut Friendly Superfoods
600mg
Actazin® Kiwi
Gentle gut health support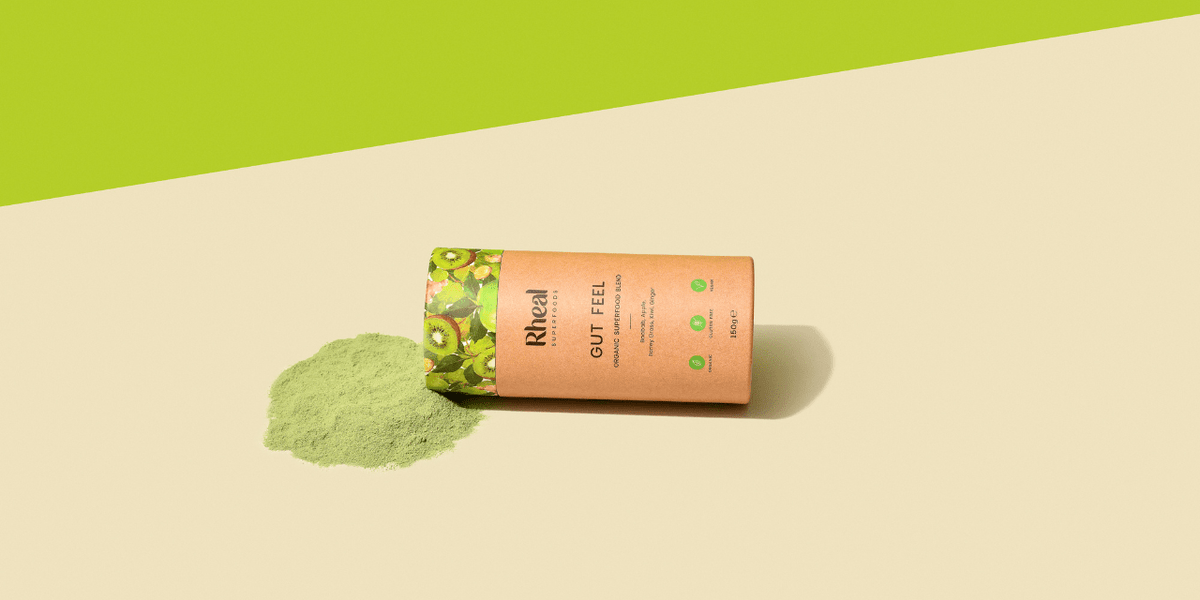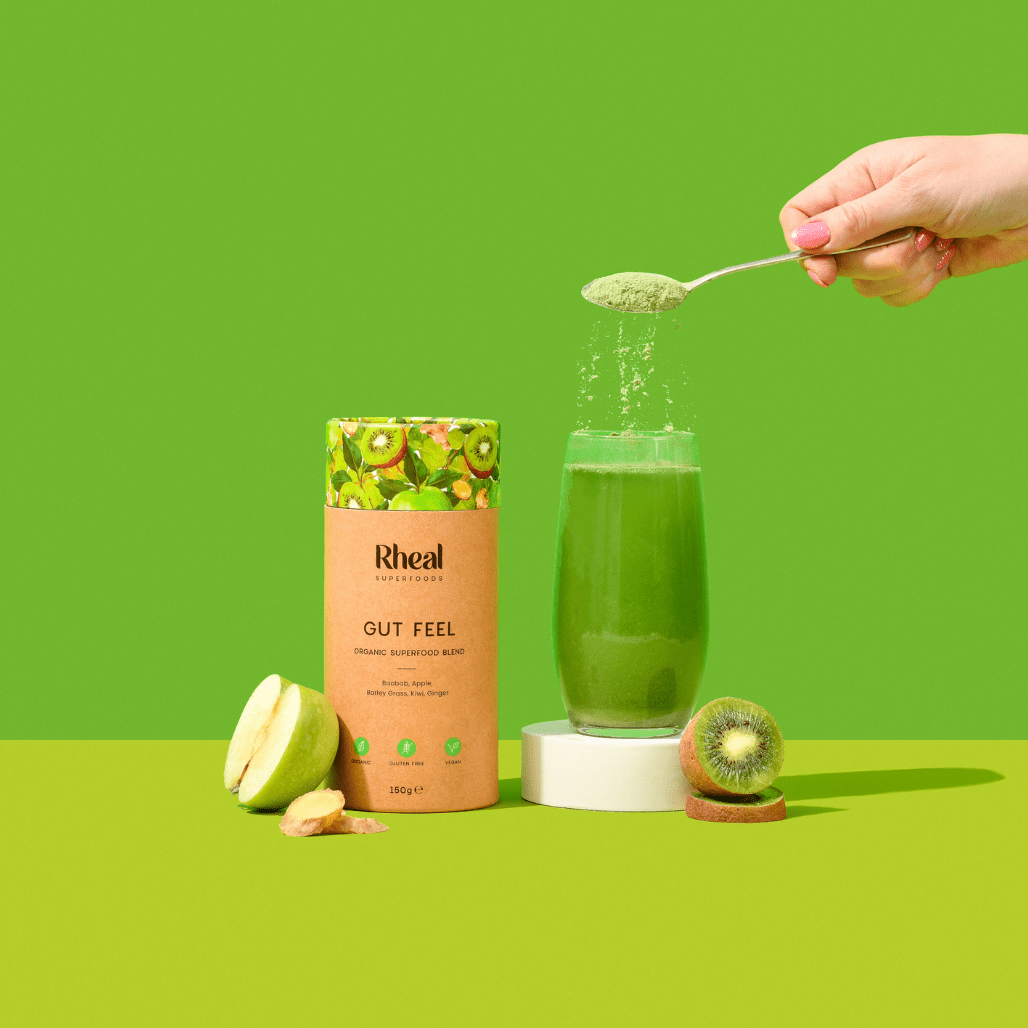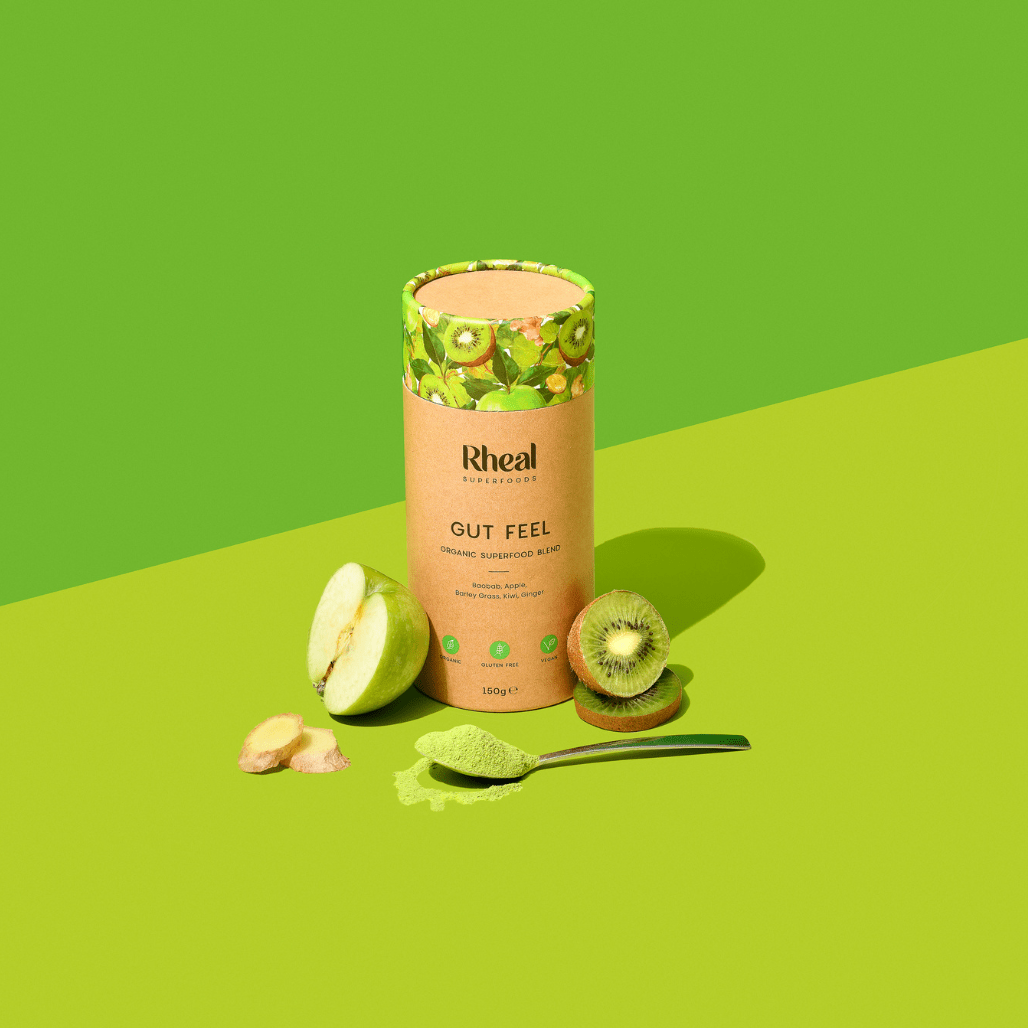 Gut Feel
A natural prebiotic of gut friendly superfoods, to help your Gut Feel its best every day.
Gut Friendly Superfoods
With Apple, Barley Grass, Ginger & Actazin® Kiwi Fruit
Actively Supports The Gut
With 600mg Actazin Kiwi fruit per serving, clinically proven to support better digestion
100% Organic
Organic ingredients only and certified Organic by OF&G
Gluten Free
And Coeliac safe, with only gluten free ingredients & third party testing
Easy to Enjoy
Add Gut Feel to water, fresh juice & healthy snacks - tastes naturally sweet with a subtle kick of Ginger
30 Servings
To support you every day, all month long
Your Gut's Best Friend
Great taste and great ingredients - just what your gut needs!
Add 5g/1sp serving to a glass of cold water and mix well for a gut-loving juice. We recommend to enjoy before meals, to ensure maximum absorption.

Blend your 5g/1sp serving with frozen banana, frozen pineapple, mango & apple juice for a gut-loving smoothie.

Add your 5g/1st serving to a delicious yoghurt bowl for a breakfast that's gentle on the tummy too.
What's Inside
Just 5 organic superfoods to support your gut. And yes, that's it.
Actazin®️ Kiwi Fruit
Actazin®️ Kiwi is a natural, cold-pressed powder made entirely in New Zealand. Daily Actazin®️ may help prevent or relieve constipation by providing the digestive system the nutrients it needs for regularity. To read more information on the Actazin®️ Kiwi, check out our blog!
Baobab
Native to warmer & drier climates, the Baobab fruit is praised for its amazing natural benefits. With 7 times more Vitamin C than oranges, Baobab really is a superfruit to help support your overall health.
Apple
Apples contain pectin, a type of fibre that acts as a prebiotic. This means that it feeds your gut microbiota, which is the good bacteria in your gut. Our freeze-dried green apples give the blend a subtle sweetness, working perfectly alongside the Actazin®️ Kiwi.
Barley Grass
Barley Grass is harvested before the grain (Barley) grows, meaning this fibre & protein rich superfood is gluten free too! A great, natural ingredient to help support our overall health and wellness from within.
Ginger
Ginger is a wonderful root vegetable that has been used for centuries to help reduce inflammation and support our overall health. Gingerol, a natural component of the ginger root, helps benefit gastrointestinal motility - meaning that food doesn't linger as long in the gut. This is why it is a great natural ingredient to relieve nausea too.
Join 750,000+ Customers Who Love Rheal
Let's hear what some of them have to say.
"I was struggling for months recovering from getting sick with my gut health. Nothing seemed to help, including probiotics and changes in diet, to truly provide relief. Taking Gut Feel really helped reduce bloating, pain and symptoms to make me feel normal again, especially after taking it for 2 weeks straight. It also tastes great!"

Nicole

"I've been taking Gut Feel for only a week and have noticed a massive improvement in gut health. Good riddance to bloating and all the other madness that comes with it! Definitely will sign up for subscription and am proudly promoting and recommending this products to family, friends and anyone with gut issues!"

Ruhina

"So happy I found Rheal Gut Feel. Absolute game changer. Took a couple of months to feel any noticeable change but now I'm here, I'll never go back. I am less lethargic, I have more energy and my mood swings are more stable. I take Gut Feel to keep my gut healthy to help with my serotonin levels as I suffer from depression and I'm so happy I have found natural way to help! Recommend to all."

Charlie

"I started with Rheal following a recommendation and so glad I did. I have diverticular and long standing bloating. This has helped enormously with both keeping pain at bay and definitely less bloating."

Stephanie

"This is, by far, the BEST superfood/health brand out there. Natural products that really really work. No additives or flavourings like other brands, and no nonsense. Just goodness, backed by science, which as a brand, they are not afraid to educate us on. Fantastic emails, brilliant branding and healthy products."

Samantha

"I'm feeling good naturally and I can't believe it. Clean, natural products that actually work. No nonsense, no hidden nasties, no flavourings or additives, just natural ingredients and incredible results. Highly recommend, will be buying these products for the rest of my life."

Helen
Frequently Asked Questions
What does Gut Feel taste like?
Gut Feel tastes slightly sweet & refreshing, with Kiwi, Apple & a subtle kick of ginger. Mixed with water, it tastes like a fresh juice!
How can Gut Feel support my gut health?
Gut Feel contains some of the best natural ingredients to support our gut health. However, the hero ingredient is the Actazin® Kiwi. It has clinically proven efficiency at a low dose of 600mg - which is exactly how much you can enjoy with every serving of Gut Feel. Dietary fibre found in the Actazin® Kiwi, including kiwifruit pectin, provides a food source for good bacteria in the gut. The more food these gut bacteria get, the healthier the gut microbiome! Studies have shown that kiwifruit pectin is slowly fermented by gut bacteria along the whole length of the colon - which reduces the excess gas and bloating which are common side effects of other prebiotics. Actazin® feeds and supports good gut bacteria, increasing their growth and activity for better digestive health, regular bowels and improved immune function.
How many servings are there in a tub of Gut Feel?
You can enjoy 30 servings of Gut Feel, which is enough to last you all month. We recommend to have one serving a day, every day.
How can I add Gut Feel to my daily routine?
Gut Feel is a fine powder, which can easily be mixed with some cold water for a refreshing juice. You can also enjoy Gut Feel in a smoothie, sprinkled over yoghurt and lots of healthy recipes. Check out our blog for some new Gut Feel recipes!
Have more questions? Get Help
We Think You'll Love These Too
We'll do good for you, and for the planet too.
As a registered B Corp, this means that every decision and step we make as a business, carefully considers the impact we will have on the planet, our communities, our wildlife & eco-systems. And with every order, we will also plant a tree on your behalf with our charity partner, Ecologi.
So far, we've planted over 500,000 trees worldwide, to support areas affected by deforestation.
Rheal is truly a force for good.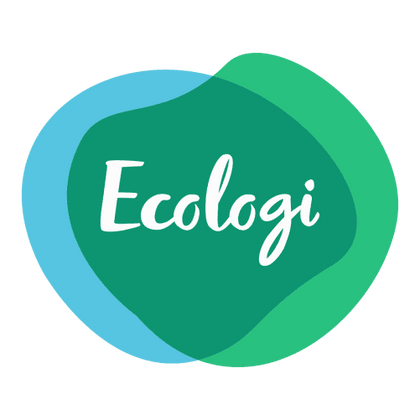 Free Health Insights & 15% Off Your First Order
Join 202,817+ Subscribers
By clicking 'sign up' you are opting in to marketing. You can unsubscribe at any time.
Privacy Policy
.