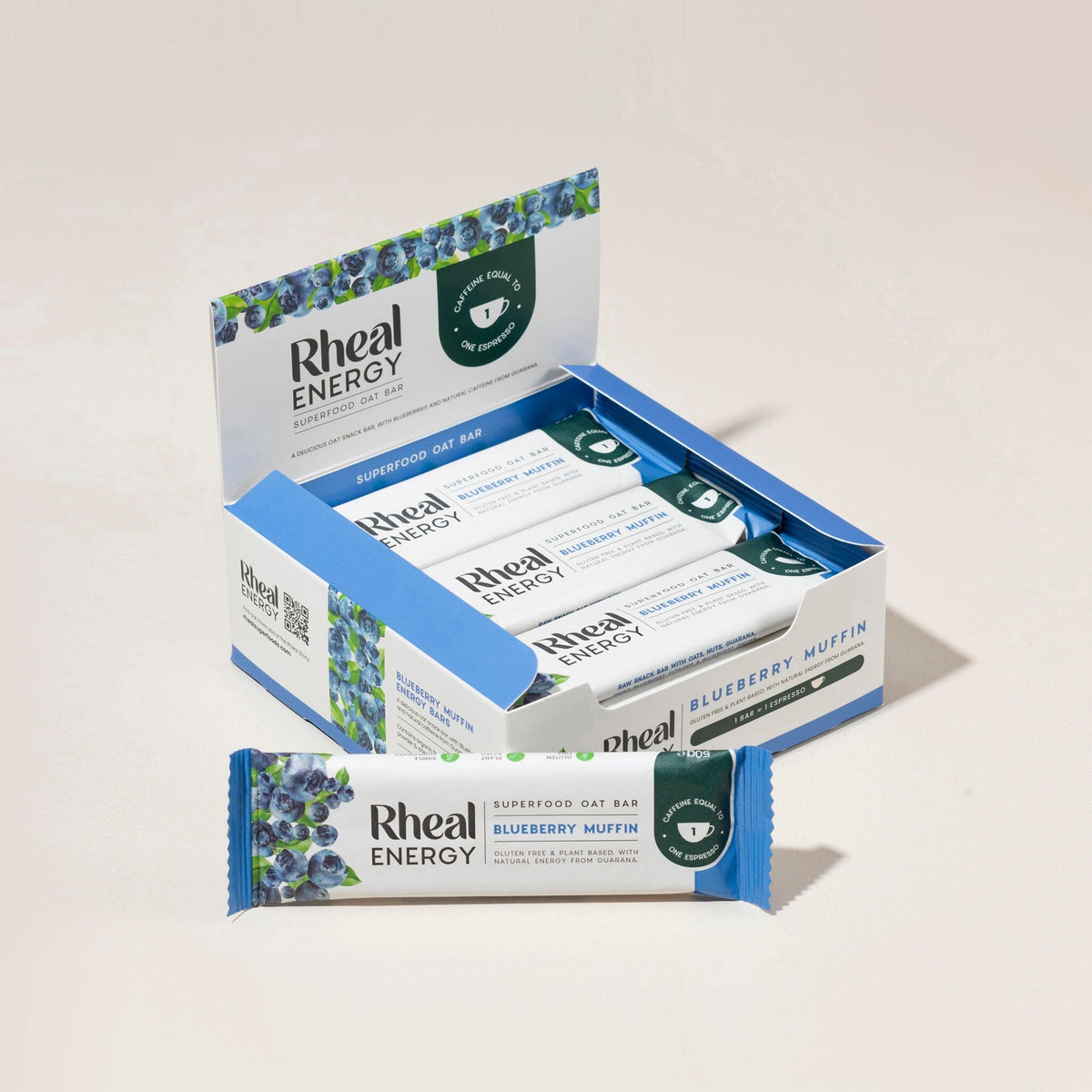 7g
of Fibre
68mg
Natural Caffeine
Gluten Free & Plant Based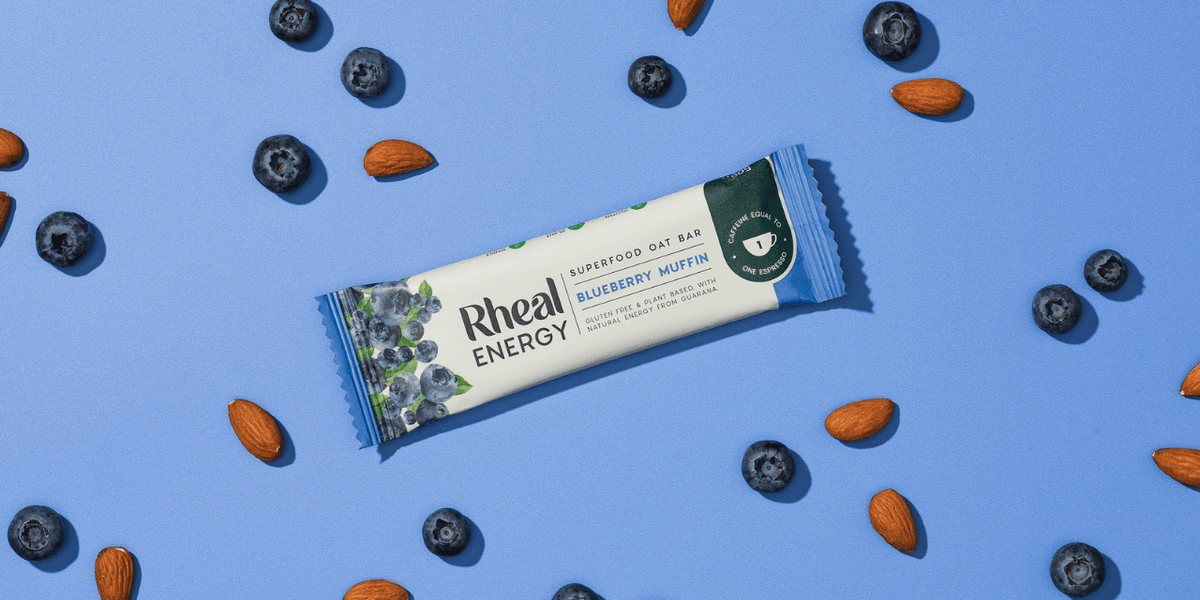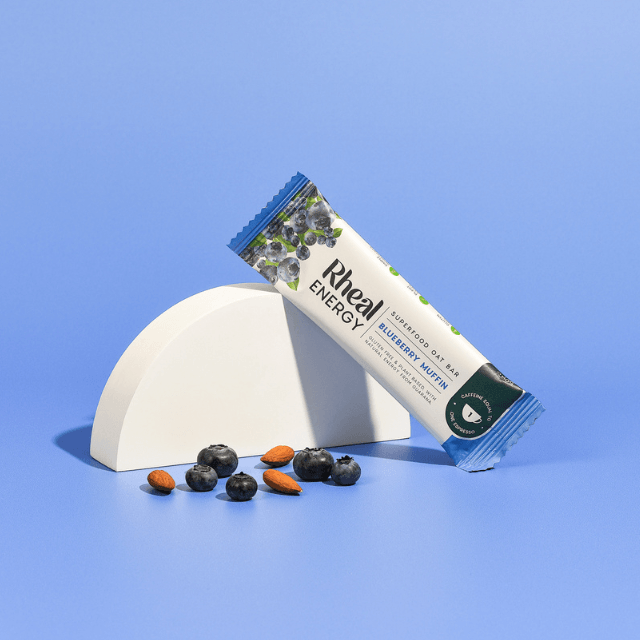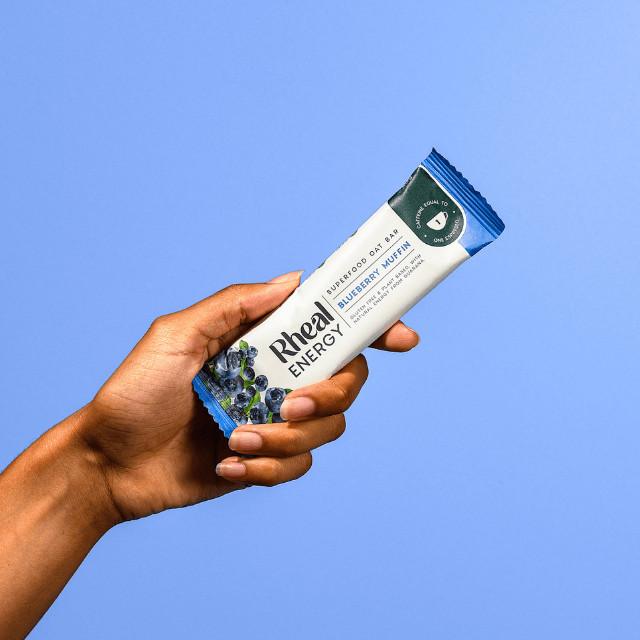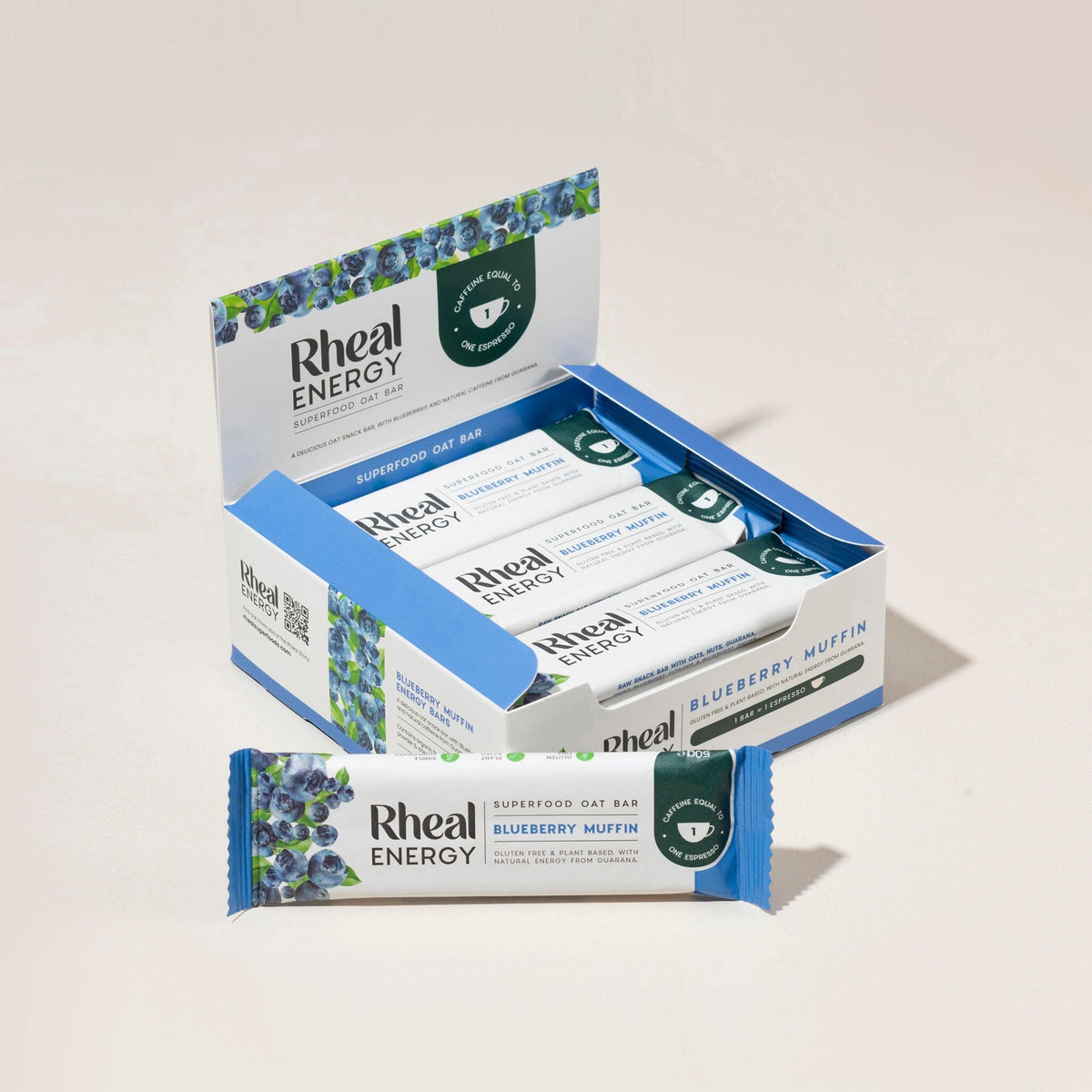 7g
of Fibre
68mg
Natural Caffeine
Gluten Free & Plant Based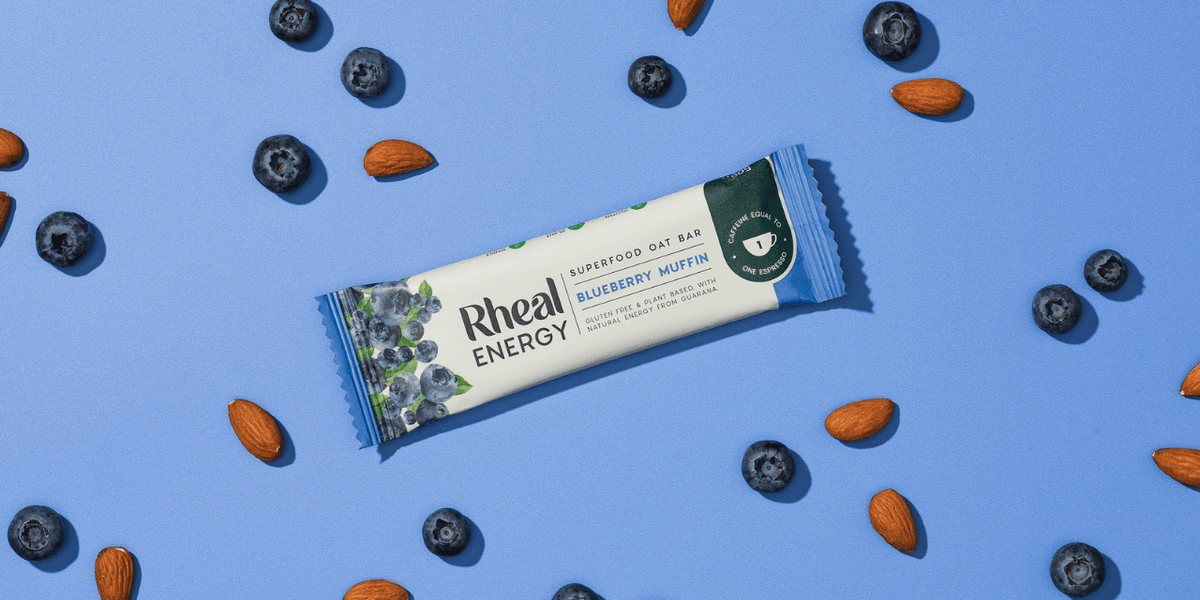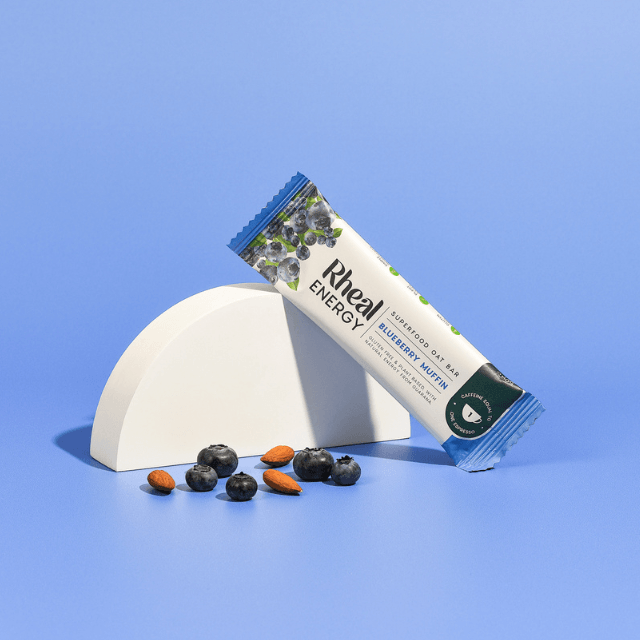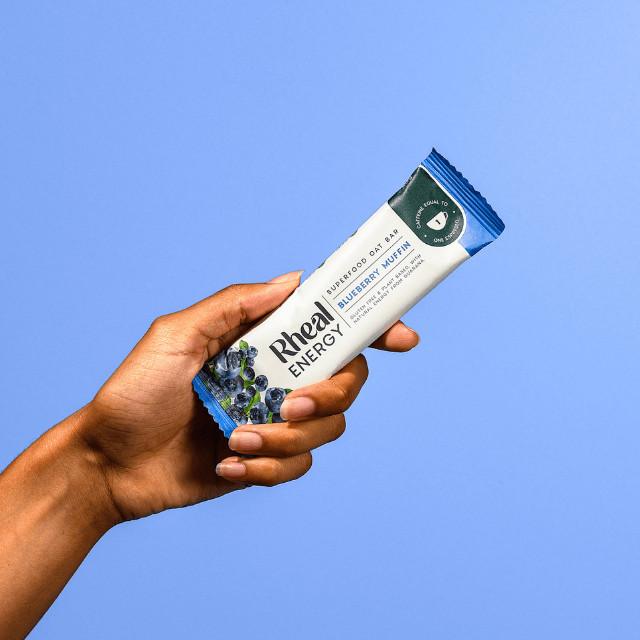 Blueberry Muffin
A delicious breakfast pick-me-up, Rheal Energy style.
Rheal Energy:

As much caffeine as a single espresso - purely from the Brazilian superfood, Guarana. 

Superfoods: With organic freeze-dried Blueberry powder, dried Blueberry pieces & Chia Seeds.
All the things you'll love:

 

A delicious flavour, with only natural ingredients - gooey and chewy, with a little crunch.

​​"The Startup Creating Premium Superfood Blends To Improve Your Health"

"Superfoods Are The Future"
Tej Lalvani, CEO Vitabiotics

"Help boost your
all-round wellness"

"Rising stars"
7g Fibre
It's good for the gut too.
Natural Caffeine
Purely from the Brazilian Superfood, Guarana - to keep you energised.
216 Calories
To stay satisfied for longer.
Simple Ingredients
So you're only digesting the good stuff.
Gluten Free
With gluten free oats, suitable for Coeliacs.
Superfoods
With Guarana, Chia Seeds, Dried Blueberries & Blueberry Powder.
"I love that Rheal's products are 100% organic, gluten free and plant based because I know there are no hidden nasties in there! For a while I was not feeling myself and I can honestly say that I now feel amazing thanks to Rheal."

Rosie @rosie.tredgett

Verified Customer
"Rheal's Shroom Coffee is an amazing way to kickstart the morning and power through the afternoon. Big fan!"

Jim @jimhgalvin

Verified Customer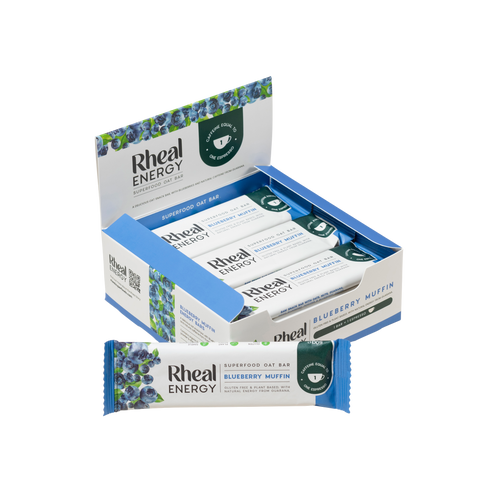 One Time Purchase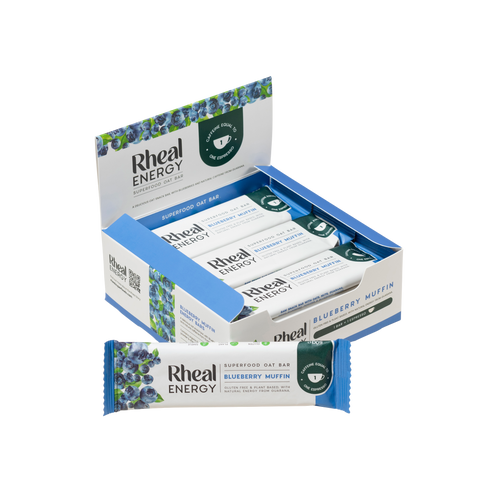 Subscription
15% off subscription products
Free UK shipping
Skip or cancel anytime
We'll do good for you, and we'll do good for the planet too.
With every order, we plant a tree on your behalf with our charity partner, Ecologi. As a company, we're committed to helping rebuild areas affected by deforestation and reducing carbon in the atmosphere. And so far with your support, we've planted over 80,000 trees across the world!
See our blends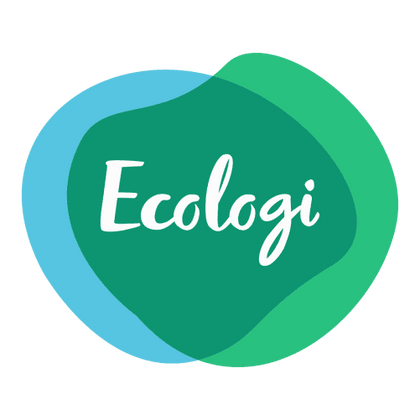 Commonly asked questions
Do you use flavourings?
Our Blueberry Muffin Energy Bar does not contain any flavourings, just organic freeze-dried Blueberry powder and dried Blueberry pieces for a sweet & sour berry flavour.
Are they gluten free and suitable for Coeliacs?
Of course! As our founder, Charlotte, is Coeliac - all of our bars are 100% gluten free. We use gluten free oats and they're manufactured in a gluten free facility.
What do you use to sweeten the bar?
We haven't added any sweeteners to our bar. The sweetness comes from naturally occurring sugars found in date syrup, coconut sugar & blueberries.
How many calories are in the Blueberry Muffin bar?
There are 216 calories in our Blueberry Muffin bar, for you to actually be satisfied for longer.
How much fibre is in the Blueberry Muffin bar?
There is 7g of fibre in our Banana Bread bar, to help support your gut health too.
What is the source of caffeine?
The natural source of caffeine in our energy bars is from the Brazilian superfood, Guarana. It is naturally high in caffeine, so it provides a good source of energy - without the jittery feeling associated with coffee or green tea.
What is the caffeine content per bar?
There is 68mg of caffeine per bar, which is the same as a single espresso.